Posted by: Nick Redfern on October 14th, 2012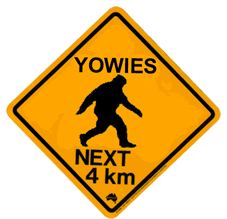 And still on the matter of monsters down under, here's another aspect of the phenomenon: a recently-published novel on the Yowie that I was alerted to on Friday. Its title is Bigfoot Adventures Down Under, written by Maggie Meyer and Joan Small.
As the blurb tells us:
"In a small town in the world heritage Blue Mountains forest, signs of Yowies – Australia's 'Bigfoot', huge hairy hominids, have been seen and heard by many locals. Journalist Daniel Jackson has brought his family to the area to investigate the rumours. His fourteen year old son Kyle decides to do his own search to earn his father's respect. With his sister Jodie and friends Dean and Phoebe, Kyle crosses an energy grid to be thrown back in time to the cretaceous era of Dinosaurs. They travel through the cave system under the mountains confronting prehistoric monsters and reach the Wollemi Pine Forest where the Yowies live. With their own wits, magic objects, the help of shape-shifter Miss Splendor magic and spirits they face challenges with humour and resourcefulness."

About Nick Redfern
Punk music fan, Tennents Super and Carlsberg Special Brew beer fan, horror film fan, chocolate fan, like to wear black clothes, like to stay up late. Work as a writer.