Posted by: Nick Redfern on June 25th, 2012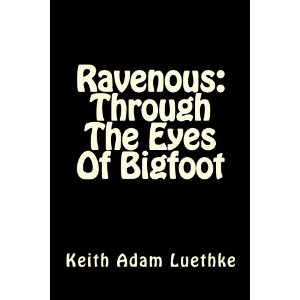 Available right now is a new Bigfoot-themed novel titled Ravenous: Through the Eyes of Bigfoot by Keith Adam Luethke, the description for which goes as follows:
"Terrill has hunted all the animals in the forest save one: man. His mother warned him that humans were dangerous and he always heeded her warning until now. Abandon by his mother and reaching adulthood, Terrill finds the humans easy prey and sacrifices them to the gods of the river. Will his bloody rampage reach an abrupt end or will he succumb to his primate rage and become . . . Ravenous."
I haven't seen the book (the official publication date is today), but it does have a 5-star review at Amazon…

About Nick Redfern
Punk music fan, Tennents Super and Carlsberg Special Brew beer fan, horror film fan, chocolate fan, like to wear black clothes, like to stay up late. Work as a writer.