Posted by: Nick Redfern on October 23rd, 2013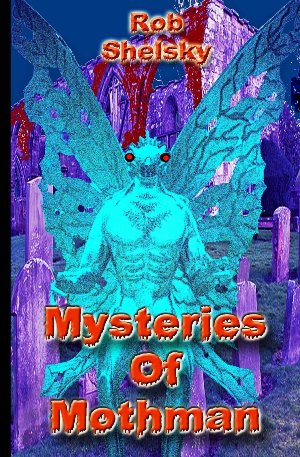 Mysteries of Mothman, a Halloween treat for any time of the year. This book tries to answer such questions as: –How did the Whole Mothman Mystery Begin? –What is the True Origin of Mothman? –Just What is the Mothman? –What is the Mothman Curse? –Is the Mothman Dangerous? –What is the Connection to Mothman and Demons? –Can the Mothman Really Predict the Future? –Is the Mothman an Alien or Something of the Supernatural? –Who is Indrid Cold? What does He have to do With Mothman? –What are the Connections to Demons and the Mothman? Mysteries of Mothman is a concise compendium of all the facts now known about the Mothman. The author brings all the information together and interprets the most likely conclusions that can be drawn from all the available data. He attempts to provide the answers we all seek regarding the Mothman. In the Mysteries of Mothman by Rob Shelsky, you'll find a brief overview of the origin of Mothman, the main sightings, and the ramifications of them. The author also shows evidence that not only does the Mothman have a long history on Earth, but it seems to be a very dark one, involving demons, no less. Furthermore, the author goes to great lengths to show the Mothman is a worldwide phenomenon by citing cases. The author discusses the Mothman's connection to disasters, its possible ability to foretell them. What's more, the author even discusses the possible true nature of Mothman, just what it really is. Want to know the answers? Read the book, The Mysteries of Mothman by Rob Shelsky, a concise compendium of all things Mothman.
The above-quote is from the blurb for a newly-published book, Mysteries of Mothman by Rob Shelsky.
I haven't seen it, but Mothman fans may want to check it out…

About Nick Redfern
Punk music fan, Tennents Super and Carlsberg Special Brew beer fan, horror film fan, chocolate fan, like to wear black clothes, like to stay up late. Work as a writer.