Posted by: Nick Redfern on July 29th, 2012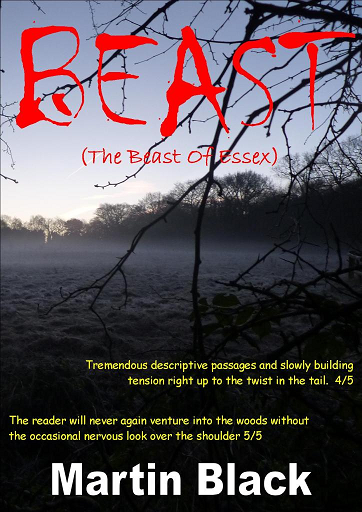 For fans of crypto-fiction, check out Martin Black's Beast – The Beast of Essex, about which we're told:
"Beast – The Beast of Essex is a relatively short modern mystery thriller based upon real life experiences, eyewitness accounts and written statements that have been accumulated during the period from 1989 to 2010. It commences with the activities of an animal research centre located in Essex back in the mid to late eighties with information taken from web based forums and articles reported in local and national newspapers. The focus then switches to a group of beer loving friends who try to incorporate their passion for their chosen sport (cycling) into their weekly work routine. This brings them into conflict with an unknown danger that has been living and evolving in the Essex countryside for the last two decades. It's not all serious though, there's an element of humour to lighten the mood where applicable."
And here's where you can find all the info (purchasing, about the author, reviews, etc) on the book.

About Nick Redfern
Punk music fan, Tennents Super and Carlsberg Special Brew beer fan, horror film fan, chocolate fan, like to wear black clothes, like to stay up late. Work as a writer.