Posted by: Nick Redfern on November 10th, 2012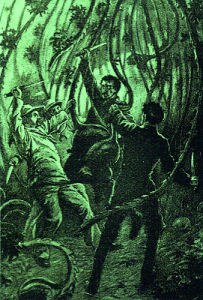 In a new post at his Shuker Nature blog, Dr. Karl Shuker begins:
"When the Venus flytrap Dionaea muscipula was first made known to botanists in the 1760s, they would not believe that it could actually catch and consume insects – until living specimens were observed in action. Moreover, reports have also emerged from several remote regions of the world concerning horrifying carnivorous plants that can ensnare and devour creatures as large as birds, dogs, and monkeys – and sometimes even humans!"
Flesh-eating plants? Yep, read on!

About Nick Redfern
Punk music fan, Tennents Super and Carlsberg Special Brew beer fan, horror film fan, chocolate fan, like to wear black clothes, like to stay up late. Work as a writer.