Posted by: Nick Redfern on September 4th, 2013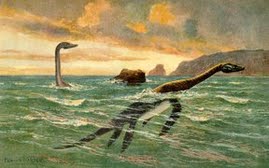 Roland Watson has once again been exploring Loch Ness, as he details in a new post at his Loch Ness Mystery blog. Here's how it begins:
"It was off to Loch Ness again as the tent and equipment were packed for four nights by the shores of the famous loch. Being August and a good Summer, I expected things to be a lot busier around the loch than they were compared to our last visit in April. That was certainly true as we headed north on the A9 to join the bustle of tourist traffic making its way to the splendid vistas of the Highlands. Don't you just hate being stuck behind a slow caravan on a road which is mainly single carriageway? Fortunately, such holdups were tolerably rare and mobile home vehicles are faster than they used to be."

About Nick Redfern
Punk music fan, Tennents Super and Carlsberg Special Brew beer fan, horror film fan, chocolate fan, like to wear black clothes, like to stay up late. Work as a writer.