Posted by: Nick Redfern on May 31st, 2012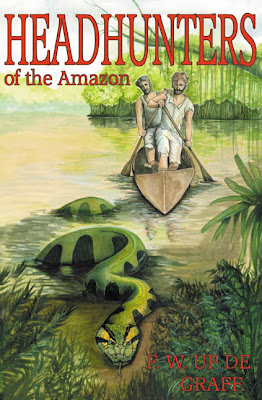 Well, purely coincidentally, I have a second post today on an old – but newly-republished book – that should be of interest to readers of Cryptomundo.
This one is Headhunters of the Amazon, written by Fritz W. Up De Graaf, originally released in 1921, and now available once again thanks to Jonathan Downes' CFZ Classics publishing company.
Of the book, Jon says that it: "…tells an extraordinary story that simply would not get published today even if any contemporary explorer or adventurer had the opportunity or the cojones to do what Up De Graaf and his companions did so blithely a century ago. However, this is not just a schoolboy tale of derring-do, but contains much fascinating socio-cultural information about the eponymous head-hunters of the title and some fascinating cryptozoological snippets. Could there indeed be a hitherto undiscovered species of giant stork luring in the Amazon jungle? Could it be the same as a prehistoric creature whose remains have been discovered in the same area? And could sightings of such a rara avis explain modern day accounts of pterosaurs reported across central and South America with monotonous regularity?"
And here's where you can find more about Headhunters of the Amazon.

About Nick Redfern
Punk music fan, Tennents Super and Carlsberg Special Brew beer fan, horror film fan, chocolate fan, like to wear black clothes, like to stay up late. Work as a writer.