Posted by: Loren Coleman on June 3rd, 2008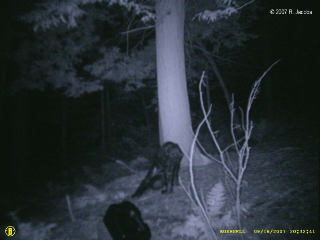 Bushnell has published their rules and press release:
Your Chance To Win Gear (and a Million Bucks)
By Sending Us Your Trail Cam Photos!

We're not saying we believe in Sasquatch, but if anyone's ever going to capture an image of one, we're guessing it'll be a hunter with a trail camera. That's why Bushnell is offering a chance at $1,000,000 to the first person using one who snaps a verifiable photo of the beast.

But just in case no Bigfoots wander your way, the editors at Field & Stream magazine are giving away great Bushnell gear for the best trail cam shots in the following categories: Deer photos, non-deer photos, and funny photos. There are three winners every month, and three grand prizes at the end of the year, so enter your photos today!

BONUS CATEGORY: For all you jokers out there – we're giving away an additional Bushnell Trail Scout Pro camera for your best attempt to cheat Bushnell out of their $1,000,000 prize. So go grab your gorilla suit and head to the nearest woodlot. Just don't get mistaken for a bear.
They are directly relating this to the "Jacobs Creature," to wit:
In September 2007, Rick Jacobs of Pennsylvania caught a controversial photo on his Bushnell Trail Scout of what some believe could be a Sasquatch. More skeptical viewers deemed it a young bear. Either way it created quite a stir across the Internet. It was even covered on Field & Stream's Field Notes Blog where you can still view the photos and give your own opinion on what Rick really caught on his Trail Scout.

Now, we're not necessarily Sasquatch believers but because of all the interest surrounding Rick's photo, Bushnell and Field & Stream have teamed up to launch this contest. Hey, if anyone is going to catch a Sasquatch on film hunters and their trail cameras are our best bet. In the meantime there are plenty of other categories to enter your trail cam photos for great prizes.
And the rules…
The Million Dollar Giveaway rules and conditions are as follows:

SWEEPSTAKES RULES: The $1,000,000 Sasquatch Photo Challenge

No purchase or payment is necessary to enter or win this giveaway.

ELIGIBILITY: The Bushnell, Field & Stream magazine $1,000,000 Sasquatch Photo Challenge (the "Sweepstakes") is open to legal residents of the 50 United States and District of Columbia (excluding residents of FL, NY, and RI) who are 18 years of age or older. Employees of Bushnell Corporation ("Sponsor"), Bonnier Corporation ("Administrator"), and their respective parent companies, subsidiaries, affiliates, production, advertising, and promotional agencies, vendors, suppliers, agents and participating partners (collectively the "Sweepstakes Entities") as well as the immediate family (spouses and parents, siblings, children and their spouses and in-laws) and household members of each such individual are not eligible. Void in FL, NY, RI) and where prohibited and restricted by law. Sweepstakes is subject to all applicable federal, state, and local laws.

SPONSOR: Bushnell Outdoor Products, 9200 Cody, Overland Park, KS 66214-1734, is the sole sponsor of the Sweepstakes. The Sponsor reserves the right, at its sole discretion, to discontinue this Sweepstakes or modify these Official Rules without prior notification. Any such changes will be made available at this site.

HOW TO ENTER: The Sweepstakes begins at 12:01 am Central Time ("CT") on 6/01/08 and ends at 11:59 PM CT on 12/15/08 ("the Entry Period"). During the Entry Period, you may enter this Sweepstakes by one of the following methods:

Online: Select "Enter Your Photos Now" from the navigation. You will then be required to register for the Sweepstakes by providing the information requested. If entering the $1,000,000 sasquatch promotion, select "Sasquatch Photos" from the category listing. Online entries must be received by the Administrator's server by 11:59 PM CT on 12/15/08. Administrator's computer is the official time keeping device for this Sweepstakes.

By Mail: Print your name, complete mailing address, daytime telephone number, and date of birth on a 3″ x 5″ piece of paper. Mail with your entry on a CD to: $1,000,000 Sasquatch Photo Challenge, 9200 Cody, Overland Park, KS 66214. Any mailed entries must be postmarked by 12/15/08 and received by 12/30/08.

RULES: Bushnell will offer a winner $1,000,000 (payable in a 40-year annuity of $25,000 per year) if a participant can provide an unaltered photograph/video, verified and substantiated by a panel of scientific experts, the evidence required to prove a Sasquatch/Bigfoot/Yeti exists. Photo or video must be taken with a Trail/Deer Camera. A Trail/Deer Camera is defined, for this Sweepstakes, as any camera designed/sold for the purpose of being attached to a tree or other object to automatically capture images of passing wildlife. Either day or night, still or video, color, or black and white. Entries must be in jpeg format, un-retouched, unaltered and not changed in anyway, or it will be disqualified.

The photo/video will be reviewed by a panel of experts and a Bushnell Field Pro for authenticity. Panelists include a Bushnell-assigned zoologist, biologist and a Bushnell Field Pro. The winner must be a unanimous decision from all three expert judges. All entries are the possession of Bushnell, and will not be returned. Winner will be contacted via registered mail and announced on the website.

All Sweepstakes Entities and their respective parents, subsidiaries and affiliated companies maintain no control over the methods used to capture and enter photographs (Sasquatch photograph). The Sweepstakes Entities shall not liable for any injury, damage, loss, expense, accident, delay, inconvenience, trespassing, illegal means of entry, or other Federal, State or local laws when obtaining the photo/video, or other irregularity that may be caused or contributed to obtaining a photo or photographs for submission, or if they are attacked by a Bigfoot, or any other irregularity that may be caused or contributed to obtaining a photo or photographs for submission.

Sasquatch, Bigfoot, Yeti or similar is defined as any bi-pedal, non-human/human that has not been classified as a bear (Black or Brown, Kodiak, Polar or Grizzly), lion (mountain, puma, cougar, panther, or others), jaguar, wild swine, wolf, coyote, wild dog, deer, elk, moose, buffalo, caribou, sheep, goat or any other indigenous or non-indigenous (Ape, monkey, lion, bear, jaguar, leopard or other) animal. Or any domesticated animal (swine, bovine, canine, feline, equine, sheep, goat, lama, birds, or other). All human, human costumed or statuary photos/video will be classified in the secondary sweepstakes (see link above for the F&S Trail Camera Photo Contest rules).

Secondary prizes: Each month the Administrator will look through all photos submitted and then give away one top prize for their favorite shot in each of the three categories (three prizes each month). At the end of the year, the Administrator will also be giving away three grand prize packages to the best photo of the year in each category. Award categories are: best photo of a deer, best photo of an animal that is not a deer and overall funniest photo. Winners of the top monthly prize will win an Excursion Binocular (ARV: $179.99). Each year end grand-prize winner will receive a Trail Scout Game Camera with Game Call Technology (ARV: $399.99).

All prize details not specified herein as being awarded will be at the sole discretion of the Sponsor. All prizes are awarded "as is" with no warranty or guarantee, either express or implied. If a winner cannot accept prize as stated, prize will be forfeited in its entirety and awarded to an alternate winner. In the event that Sponsor is unable to contact a potential winner after the third attempt, or in the event a potential winner is unable to or unwilling to accept the prize, Sponsor reserves the right to randomly select an alternate potential winner or not award the prize. Limit one prize per prize category per person or household. No substitution, transfer, or cash equivalent of prize is permitted, except by Sponsor, which reserves the right to substitute a prize (or portion of prize) of comparable value, at its sole discretion. Any and all taxes on the prize, and any other costs, fees and expenses not explicitly stated herein as being awarded, are each winner's sole responsibility. Sponsor is not responsible for prizes returned as undeliverable. Unclaimed prizes will not be awarded.

GENERAL: By participating, entrants agree (a) to these rules and decisions of Sponsor and judges which shall be final in all respects relating to this Sweepstakes; (b) to release, discharge and hold harmless the Sweepstakes Entities and their respective directors, officers, employees, agents, agencies and representatives (collectively, "Released Parties") from any and all liability, losses, or damages of any kind resulting from their participating in the Sweepstakes or their acceptance, use or misuse of a prize, including, without limitation, liability for personal injury or death (including any travel or related activity hereto); and (c) if a winner, to the use by Sponsor and its designees of name, likeness, biographical information, city, state and/or photography for advertising and publicity purposes in any and all media now or hereafter known without compensation, notification or permission and to execute specific consent to such use if asked to do so by Sponsor or its designees. Grand and Second Prize winners will be required to complete and return an affidavit of eligibility / liability release and publicity release (unless prohibited) along with an IRS form W-9 within time period specified by Sponsor or an alternate winner will be selected. Return of any prize/prize notification as undeliverable or noncompliance with these Official Rules may result in disqualification of winner and forfeiture of the prize.

LIMITATIONS OF LIABILITY: Released Parties are not responsible and shall not be liable for: (a) any telephone, electronic, hardware or software program, network, Internet or computer malfunctions, failures, or difficulties of any kind, including without limitation, server malfunctions, or any human error which may occur in the processing of entries; (b) failed, incomplete, garbled or delayed computer transmissions; (c) late, lost, illegible, postage-due, incomplete, garbled, damaged, misdirected, undelivered or stolen entries or mail, or for printing, typographical, human or other errors relating to or in connection with this Sweepstakes; and (d) reserves the right in its sole discretion to cancel or suspend the Sweepstakes or any portion thereof should any causes beyond the control of Sponsor corrupt the administration, security or proper play of the suspect entries received prior to cancellation. CAUTION: ANY ATTEMPT BY AN ENTRANT TO DELIBERATELY DAMAGE ANY WEB SITE OR UNDERMINE THE LEGITIMATE OPERATION OF THE PROMOTION MAY BE A VIOLATION OF CRIMINAL AND CIVIL LAWS AND SHOULD SUCH AN ATTEMPT BE MADE, SPONSOR RESERVES THE RIGHT TO SEEK DAMAGES FROM ANY SUCH PERSON TO THE FULLEST EXTENT PERMITTED BY LAW.

WINNERS LIST: For a list of winners (available after 02/15/09), mail a self-addressed, stamped envelope to be received by 05/15/09 to: $1,000,000 Sasquatch Photo Challenge, 9200 Cody, Overland Park, KS 66214.
Also….
Field & Stream Trail Camera Photo Contest Official Contest Rules

The Field & Stream Trail Camera Photo Contest (the "Contest") is sponsored by Field & Stream magazine, a publication of Bonnier Corporation ("Sponsor") and Bushnell Corporation ("Sponsor").

THREE (3) GRAND PRIZES: Trail Scout Pro with Game Call Technology, approx. retail value $481.95

THREE (3) MONTHLY PRIZES: Excursion 10x 42mm binocular approx. retail value $299.95

All federal, state and local laws and regulations apply; void where prohibited.

ELIGIBILITY: The Contest is open only to individuals, 18 years or older at time of entry, who are legal residents of the United States. Employees of Bonnier Corporation and Bushnell Corporation and its parent companies, subsidiaries or agents, their immediate families (defined as parents, children, siblings, spouse and grandparents), and those domiciled with any of the foregoing are not eligible.

TO ENTER: Submit wildlife photos taken by trail cameras only. To enter electronically, visit our website at http://www.fstrailcamcontest.com. To enter by mail, mail your photos to Trail Camera Contest, Field & Stream, 2 Park Ave., New York, NY 10016. All entries must include the submitter's name and contact information and a detailed caption about photo. All information provided by entrant must be complete, true and correct. Submissions to the Contest must be received by 12/15/2008 in order to be eligible; entries received after that date will be deemed ineligible to win. All submitted entries become the property of Sponsor and will not be acknowledged or returned; Sponsor is not responsible for lost, late, inaccurate, incomplete, damaged, illegible, or misdirected entries. All entries may be published on the Field & Stream web site, whether selected for a prize or not. Nothing in these Contest rules obligate Sponsor to publish or otherwise use any photos submitted in connection with the Contest. Each entry must be submitted on an individual basis (i.e., no team, joint, or corporate entries) and all components of the entry must be the original creation of the submitting participant. Only non-commercial work may be submitted. Entries may not contain profanity, nudity, pornographic images, violent images, anti-competition messages, illegal material, or material that violates the rights of third parties. Entries may not include confidential information, trade secrets, trademarks or copyrighted material belonging to any person or entity other than the participant absent a suitable license or permission agreement (proof of which is required). Entries containing any forbidden matter or material otherwise deemed by Organizer to be inappropriate will be disqualified. Online entries will be deemed submitted by the authorized account holder of the e-mail address submitted at time of entry.

JUDGING: A panel of judges consisting of Field & Stream editors will select the winning entries based equally upon the criteria of quality of picture and relevance to contest. Entries will be judged in three categories: best photo of a deer, best photo of an animal that is not a deer and overall funniest photo. By entering, you agree to be bound by these Official Rules, and that the decisions of the judges are final and binding in all respects. Judging will be completed by 12/30/08, and potential winners will be notified by e-mail or phone on or before 12/30/08. Based upon the content of submissions, Sponsor reserves the right not to select any winning submissions. Potential winners will be required to sign and return a sworn Affidavit of Eligibility and Liability and Publicity Release. If required documentation is not returned within seven (7) business days of notification, or if notification is returned as undeliverable, any prize will be forfeited and an alternate winner will be selected.

PRIZE AWARDS: Prizes will be awarded within sixty (60) days after winner verification. No prize substitution or transfer is permitted, except that Sponsor reserves the right to substitute a prize of equal or greater value for any reason. All taxes and any other incidental expenses on Prizes are the sole responsibility of each winner. Winners of the top prize will win an Excursion Binocular. Each grand-prize winner will receive a Trail Scout Game Camera with Game Call Technology.

GENERAL RULES & LIMITATIONS: By entering, you represent that: (i) your entry is your own original work; and (ii) you own or have the rights to convey any and all right and title in any material submitted as part of your entry into the Contest. By entering, you grant to Sponsor a non-exclusive, worldwide, royalty-free license to edit, publish, promote, republish at any time in the future and otherwise use your submission, along with your name and likeness, in any and all media for possible editorial, promotional or advertising purposes, without further permission, notice or compensation (except where prohibited by law). By participating in the Contest, you agree to release Sponsor and its parent companies, affiliates, subsidiaries, employees, directors, officers, and agents from any and all liability, claims or actions of any kind whatsoever for injuries, damages or losses to persons and property which may be sustained in connection with the receipt, ownership, possession, use, or misuse of any prize. Sponsor is not responsible for technical, hardware or software failures, or other errors or problems which may occur in connection with the Contest, whether computer, network, technical, mechanical, typographical, printing, human or otherwise, including, without limitation, errors or problems which may occur in connection with the administration of the Contest, the processing or judging of entries, the announcement of the prizes, in any Contest-related materials, or that may limit prize fulfillment or a participant's ability to enter the Contest. Sponsor reserves the right to permanently disqualify from the Contest any person it believes has intentionally violated these official rules.

WINNER IDENTITY: For the identity of the winner(s), send a self-addressed, stamped envelope after 12/30/08 to Trail Camera Contest Winner, Field & Stream, 2 Park Ave., New York, NY 10016.

About Loren Coleman
Loren Coleman is one of the world's leading cryptozoologists, some say "the" leading living cryptozoologist. Certainly, he is acknowledged as the current living American researcher and writer who has most popularized cryptozoology in the late 20th and early 21st centuries. Starting his fieldwork and investigations in 1960, after traveling and trekking extensively in pursuit of cryptozoological mysteries, Coleman began writing to share his experiences in 1969. An honorary member of Ivan T. Sanderson's Society for the Investigation of the Unexplained in the 1970s, Coleman has been bestowed with similar honorary memberships of the North Idaho College Cryptozoology Club in 1983, and in subsequent years, that of the British Columbia Scientific Cryptozoology Club, CryptoSafari International, and other international organizations. He was also a Life Member and Benefactor of the International Society of Cryptozoology (now-defunct). Loren Coleman's daily blog, as a member of the Cryptomundo Team, served as an ongoing avenue of communication for the ever-growing body of cryptozoo news from 2005 through 2013. He returned as an infrequent contributor beginning Halloween week of 2015. Coleman is the founder in 2003, and current director of the International Cryptozoology Museum in Portland, Maine.