Posted by: Loren Coleman on November 28th, 2009
From Belgium, Australia, the United Kingdom, Canada, and the USA come news and some thoughts about recent sightings of panthers and other mystery cats.
Belgian Black Panther
A black panther known to have been roaming a forest in southern Belgium for several weeks has been spotted near the town of Malmedy, the RTBF channel and RIA Novosti reported, on November 16, 2009.
It remains unclear how the animal ended up on the loose in Wallonia.
German experts who have been called in to catch the creature spotted it on Saturday night, but were unable to get within range to fire a tranquilizer.
"The tracks they have traced on the site are undoubtedly those of a panther, and they also saw the animal that night," police official Emile Delhez said.
The specialists, who are using a panther cub as a bait, will need to wait until the panther approaches to within 70-100 meters to tranquilize it.
No French or Belgian zoos or circuses have reported the escape of a panther. Local authorities believe the animal fled from a private owner.
Elsewhere in Australia….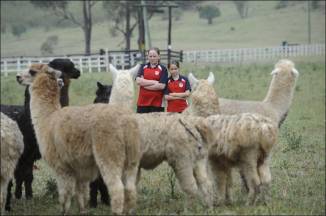 Cousins Brittany, 12, and Emily Staples, 11, of Cobbitty, check on their alpaca herd, near Camden, Australia. Photo by Robert Pozo.
A panther-like creature could be responsible for a vicious attack on an alpaca herd in the Camden area [in Australia, in October 2009].
A female alpaca and her offspring suffered horrific head injuries. Both had to be destroyed.
There have been many reports of sightings of a "big cat" roaming around Greendale and the Bents Basin State Conservation Area [according to Australian news sources on November 9, 2009].
The latest sightings follow months of reports of a panther-like creature in Wollondilly shire and Camden bush.
Greendale resident Elizabeth Tabone said two neighbours had reported seeing a very large cat-like creature on their properties. It is believed several property owners had planned to go searching for the creature on the weekend. Alpaca owner Kelli Staples said she'd also lost four lambs and a young calf recently but put it down to foxes. But the recent attack on the alpacas suggested something much bigger, stronger and brutal was on the loose. Photographs of the injuries are too distressing to publish.
The photographs show how something had grabbed the top of the female's head and crushed the skull.
Ms Staples said a bite through the skull had made a hole larger than her pinkie finger. "Whatever grabbed her had a massive amount of power in its jaw; it just crushed her," she said.
Ms Staples did not believe foxes or dogs were responsible for the mauling. "No way a fox has done this to the alpacas and if it was a dog it would have to be a monster-size dog as the alpacas are very protective," Ms Staples said. "If it was a pack we would have heard them."
Her concern was that the alpha male alpaca and the rest of the herd hadn't stayed to protect the mother and son, suggesting they themselves had been terrified.
"They must have been really scared for the alpha male not to protect them," she said. Ms Staples said she now locked up the herd between 4pm and 8am, and she and her family had stopped walking outdoors at night.
Cumberland Livestock, Health and Pest Authority senior ranger Geoff Mills suspected dogs were responsible for the deaths of alpacas.
He said he'd had a report from a Cobbitty landowner about three weeks ago of about 60 cows and calves crashing through a paddock fence because they'd been alarmed by something.
"I suspect it was dogs … even with the alpaca attack as well. I know alpacas are used as protectors of goats and sheep, but that's generally against smaller domestic dogs," he said. "There are some pretty big breeds around and I've seen them drop cows."
Mr Mills invited landowners who had lost livestock to contact him so he could chart patterns and work on a prevention plan.
Meanwhile also in Australia…
Logan's Black Mystery Cat
A second sighting of a panther-like animal roaming bushland in southern Logan has been reported.
Lynda Keane said she was driving near Bahrs Scrub when a black cat-like creature ran in front of her car.
She recounted the bizarre sighting after reading a report in during [the last week of October 2009's] Albert & Logan News about a similar creature seen in Eagleby by Jack Van Uffelen.
Ms Keane, who lives in Sydney and was in Logan visiting family in early August, said she was driving along Bahrs Scrub Rd from Windaroo about 6pm when the creature appeared.
"We came up to a causeway and it came running across the road,'' she said.
"It was right in front of us and then disappeared up the embankment and through the trees in to the scrub.''
Ms Keane said her brother-in-law passenger also saw it.
"There was no way it could pass as a skinny dog," she said.
"It was huge with this long tail and what looked like markings on it's side but it could have been it's ribs coming through.
"It frightened the crap out of us!''
Ms Keane said her brother-in-law and his 18-year-old daughter had spotted the animal again about a week later but it had not been seen since.
Mr Van Uffelen, who saw a similar creature near a dam that backs onto his Olympic Court property twice [in October 2009], said he was still hoping to capture video footage of the strange animal.
From Canada comes this…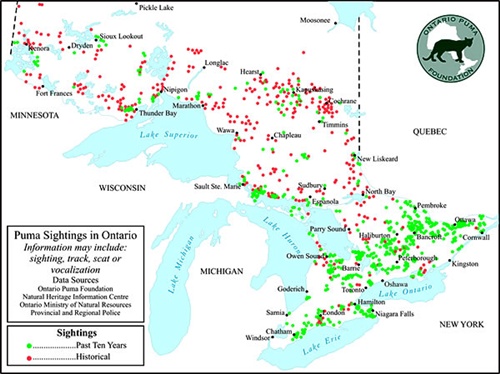 Ontario's Panthers
The Eastern Cougar has become somewhat like Bigfoot in some parts of Ontario, particularly Southern Ontario; while they once thrived in that region, the last documented living cougar in Ontario was recorded in 1938. Around this stage the Eastern Cougar was moved to the extinct list in the province of Ontario in Canada; however, a number of reported and confirmed sightings over the past decade have caused experts to reconsider if the cougar (also known as the Mountain Lion, Puma or Panther) is truly extinct in Ontario, or if it's simply endangered.
Since 2002 alone, there have been over 500 reported sightings in Ontario with farmers reporting attacks to their livestock, and hunters and other individuals out for a stroll through deeply wooded areas claiming to spot a much larger, cat-like animal with similar markings to a deer in fleeting glimpses. While very few of these sightings have actually been confirmed; there is enough DNA evidence collected through hair and Cougar scat to indicate that the Eastern Cougar is still alive and well in Ontario, though the true numbers cannot be confirmed.
Few Ontarians are aware that there might still be Cougars living among them – or for that matter, that they ever did since the Cougar's history predates a large percentage of the population today. But with sightings being reported all across Ontario, it's clear that while the Cougar may be as elusive as big foot, these animals are out there and probably in large numbers.
One confirmed Cougar sighting was in Gatineau Park, Quebec, near Canada's capital, Ottawa; a popular hiking and camping area. Despite the high human presence, within 25 years, there have been multiple reports of cougar sightings, which were finally confirmed to be valid in 2007 after park officials saw a large-sized Mountain Lion casually strolling across one of the park's roads. Other confirmed sightings have been in the Lindsay and Peterborough area, and researchers are setting up discreet cameras in hopes of catching some of these creatures in action and getting a better feel for just how big their population is.
Cougars aren't foreign in Canada, with populations living in great numbers in the West, particularily in the mountains of Alberta and British Columbia. These Cougars are not believed to be of the same species as the ones in Ontario. While there is no absolute evidence as to why the Eastern Cougar became extinct in Ontario in the early to mid-1900's; some have suggested it's due to a migration of deer, one of the species' main food sources, or as a result of settling farmers killing them off when they posed a risk to their livestock. Other large wild cats have managed to thrive in Ontario, including the Ontario Bobcat and the Lynx.
This is good news for the Eastern Cougar, if the species is managing to thrive again after decades of being considered extinct, but it might have entirely different meanings to Ontario residents who might need to start taking extra precautions with their livestock and small animals.
Via: Ontario Puma Foundation, Canada.com
Then, finally, from the USA, from Illinois…the word on the
Plank Road Panthers
It was exactly a year ago that Elgin deer hunter Pat Crawford started looking through the photos recorded by a motion-activated camera in the back of a friend's tree nursery along Plank Road.
Among the deer pictures he had hoped for, he discovered the blurry image of what seemed to him to be a leopard-like cat. That set off a series of news stories we ran last year in which we recounted how many people in that neighborhood — and some as far away as Bartlett — also had reported seeing what we called the Plank Road Panther.
Once we began publishing the stories, people phoned and e-mailed us about having seen big cats on the far west side of Elgin (at Big Timber Road and McLean Boulevard, and behind the Randall Road Target store); in downtown Gilberts; and in many places around the Plato Center-Pingree Grove area.
The sightings — usually described as a black cat about the size of a very large dog — never really stopped. At least 17 people have told The Courier-News they have seen such a dark-colored animal in the Elgin-Plato-Hampshire-Bartlett area between 2007 and last month. Most sightings have occurred close to either railroad tracks or creeks.
The center of gravity has shifted since then about 25 miles to the east, in the DuPage County area. In the first week of September, several people reported seeing a cougar-like animal in Wheaton. On Sept. 14 a commuter driving near Raymond Drive saw what looked like a cougar shaking water off his fur in the corner of a forest preserve. That brought to an estimated 24 the number of similar sightings reported in DuPage County forest preserves this year.
Around that same time, Deb Orals' son ran into their home in Stonecrest subdivision in Plato Township, shouting that he had seen "something big — not a deer or a dog, but like a big cat!" in their backyard.
Most recently, on Oct. 28 an unidentified passerby told a Kane County sheriff's deputy he or she saw a panther or cougar near Routes 38 and 47 in Elburn.
What have we learned about the Plank Road Panther over the past year?
Mystery fur
The most intriguing physical clue, besides that blurry photo, is a plastic bag full of gray fur collected by Charles MacArthur and Shane Lyon of Plato Township on Jan. 24. That morning, Lyon had been driving along Plank Road near Muirhead Road when he saw a large black cat bounding across the snowy farmland. The men followed the tracks that led to a beaten-down patch of snow 2 feet by 3 feet at the edge of a woods. They say this apparent sleeping spot was lined with the gray fur.
We sent some of that fur to Jay Petersen, curator of mammals at Brookfield Zoo. But he and several other zookeepers determined it "feels and looks like rabbit hair."
MacArthur scoffed at that.
"If that's rabbit fur, it had to come from 200 rabbits," he said. "The fur was thick on that bed."
The size
There are two clues to the beast's size. Lyon and MacArthur say the footprints they followed measured 3 or 4 inches in diameter. And when two store clerks saw a black cat in a cornfield west of the Randall Road Target store in Elgin on March 24, landmarks they saw on each side of the animal suggest it was 7 feet long, including tail.
When Petersen was called to examine footprints found in a creek bed in Wheaton this summer, the zoo curator said the prints were cat-like but too small to have come from an adult cougar.
In Kane County, most witnesses estimate the size of the animal between 30 and 60 pounds. By contrast, a cougar killed in Chicago last April weighed 150 pounds.
The verdict
Biologists say the Plank Road Panther could be one of seven possible species of animal. Of these, three probably can be ruled out.
1. Because of its color, the PRP does not seem to be a cougar (native to North America; also called mountain lion, panther and puma).
2. Neither does the PRP seem to be an ordinary house cat because of its size. Some of the cats also have emitted a screechy, growling roar.
3. Foxes can be ruled out because they're too small, too distinctively colored and shaped, and don't growl.
That leaves four possible suspects.
4. Coyotes are relatively large, dark-colored and common in Kane County. But witnesses say it's built and moves like a cat.
5. It's possible some of the sightings were bobcats — native to this area but rare. Bobcats run 25 to 30 pounds.
6-7. The most fascinating possibilities are that Mr. Panther is a black leopard (black panther) from Africa, or a black jaguar from South America, that was once a pet which escaped or was turned loose.
Mistaken identity?
Dr. Clay Nielsen, a cougar specialist with the Cooperative Wildlife Research Lab at Southern Illinois University, remains skeptical. "People see a black Lab or a large black house cat, and think they have seen a 'black cougar,'" he said.
Nielsen admits similar reports have come in from many parts of the country. But why, the professor asks, has no one ever found one dead? "A variety of cougar called the Florida panther is the most endangered mammal in North America. Yet people find 15 of those dead every year in Florida."
What we need above all, Petersen notes, is a better photo or tissue sample. Or, best of all, would be the corpse, like the genuine cougar shot by a cop April 14 in a residential neighborhood in Chicago. Until we get that new evidence, as Petersen says sadly, "It remains a mystery."
++++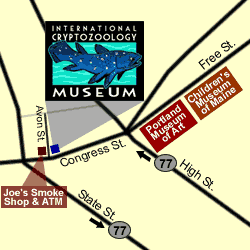 The International Cryptozoology Museum, Portland, Maine, will be closing early on Saturday, November 28th. Hours for this one Saturday will be from 11:00 am to 4:00 pm (instead of 6 pm). Normal hours resume for Sunday, November 29th, Noon to 5:00 pm. Closed Monday, and back to 11-6 pm then Tues-Sat again.
Five dollars per person, any age, for admission, cash or check. There is an ATM next door at Joe's Smoke Shop.
Bigfoot and Yeti Christmas ornaments have arrived. Other popular cryptozoological items and autographed books are available.
I will have extended hours on the Saturday before Christmas, December 19th.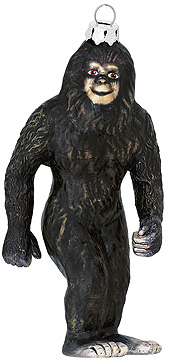 Ready to hang with a silver cord, you can now pick up your very own Sasquatch ornament, which is 4½"- 4¾" tall, brown with golden highlights and crafted of glass and resin, at the museum, while supplies last. The "Legend of the Bigfoot" card is included.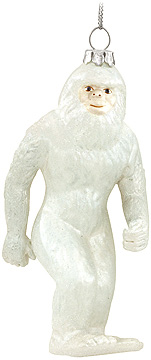 For those looking for a sharper white Yeti among your evergreen branches, here's the white Abominable Snowman ornament. With a silver cord, our the 4½"- 4¾" white hairy hominoid ornament is crafted of glass and resin and accented with sparkling iridescent glitter accents, also with the "Legend of Bigfoot" card.
Both are great ways to support the International Cryptozoology Museum this holiday season.

About Loren Coleman
Loren Coleman is one of the world's leading cryptozoologists, some say "the" leading living cryptozoologist. Certainly, he is acknowledged as the current living American researcher and writer who has most popularized cryptozoology in the late 20th and early 21st centuries. Starting his fieldwork and investigations in 1960, after traveling and trekking extensively in pursuit of cryptozoological mysteries, Coleman began writing to share his experiences in 1969. An honorary member of Ivan T. Sanderson's Society for the Investigation of the Unexplained in the 1970s, Coleman has been bestowed with similar honorary memberships of the North Idaho College Cryptozoology Club in 1983, and in subsequent years, that of the British Columbia Scientific Cryptozoology Club, CryptoSafari International, and other international organizations. He was also a Life Member and Benefactor of the International Society of Cryptozoology (now-defunct). Loren Coleman's daily blog, as a member of the Cryptomundo Team, served as an ongoing avenue of communication for the ever-growing body of cryptozoo news from 2005 through 2013. He returned as an infrequent contributor beginning Halloween week of 2015. Coleman is the founder in 2003, and current director of the International Cryptozoology Museum in Portland, Maine.