Posted by: Nick Redfern on May 31st, 2012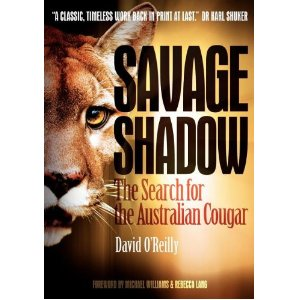 Savage Shadow: The Search for the Australian Cougar by David O'Reilly is not a new book – in fact, it's years old. But, the good news is that it is now widely available again, in a new edition, thanks to the good folks at Strange Nation Publishing.
For anyone and everyone interested in the phenomena of Alien Big Cats, out of place animals, and so-called "mystery pumas" etc, this is essential reading. Indeed, Dr. Karl Shuker refers to it as "a classic."
Here's where you can purchase the book, and here's the publisher's blurb on Savage Shadow:
"For decades farmers in the southwest of Australia have been convinced that there are cougars at large in the Australian bush, devastating wildlife and livestock. Hundreds of sightings have been documented in Western Australia, from as far north as Geraldton, south to Esperance and inland to Norseman. Australian journalist David O'Reilly became fascinated with what is known as perhaps Australia's greatest wildlife mystery during his time as the bureau chief of The Australian's Perth office. He interviewed scores of witnesses – farmers, wildlife experts, academics and bureaucrats – and wrote many stories about the hunt for the 'Cordering Cougar', as it became known, during the late 1970s and early 1980s. This book, now back in print for the first time in 30 years, is the culmination of that work."

About Nick Redfern
Punk music fan, Tennents Super and Carlsberg Special Brew beer fan, horror film fan, chocolate fan, like to wear black clothes, like to stay up late. Work as a writer.