Posted by: Karl Shuker on July 30th, 2014
The legendary basilisk was originally described in Western folklore as resembling a relatively small, unspectacular serpent in basic form. Down through subsequent ages, however, reports of it changed during the endless retellings of myths until it eventually became much larger, and acquired a cockerel's coxcomb and wattles, as well as the ability to crow like a cockerel too. This marked the beginning of the basilisk's gradual transformation into a much more dramatic-looking yet equally fictitious monster – the cockatrice. In Africa, however, there are many modern-day reports of a supposedly real yet still-unidentified species of snake that allegedly bears a very striking resemblance to this serpentine pre-cockatrice. It is called the crowing crested cobra.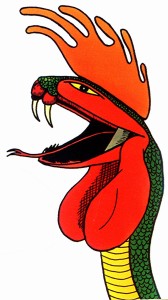 (c) Dr Karl Shuker
Said to measure up to 20 ft long, the crowing crested cobra ranges from buff-brown to greyish-black in body colouration, but its face is bright scarlet, and, despite its cobra appellation, it has no hood. Instead, this exceptional serpent reportedly bears a prominent bright-red crest resembling a forward-pointing coxcomb, and the male is also said to sport a pair of red facial wattles. Most astonishing of all, however, in further parallel to a cockerel this bizarre snake can reputedly give voice to a loud crowing cry.
Further details can be found here on my ShukerNature blog.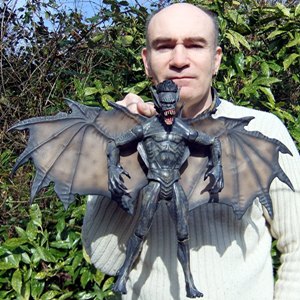 About Karl Shuker
My name is Dr Karl P.N. Shuker. I am a zoologist (BSc & PhD), media consultant, and the author of 25 books and hundreds of articles, specialising in cryptozoology and animal mythology. I have a BSc (Honours) degree in pure zoology from the University of Leeds (U.K.), and a PhD in zoology and comparative physiology from the University of Birmingham (U.K.). I have acted jointly as consultant and major contributor to three multi-author volumes on cryptozoology and other mysterious phenomena. I am the Life Sciences Consultant to The Guinness Book of Records/Guinness World Records (Guinness: London, 1997-present day), and was consultant to Monsters (Lorenz Books: London, 2001), as well as a contributor to Mysteries of the Deep (Llewellyn: St Paul, 1998), Guinness Amazing Future (Guinness: London, 1999), The Earth (Channel 4 Books: London, 2000), and Chambers Dictionary of the Unexplained (Chambers: London, 2007). I appear regularly on television & radio, was a consultant for the Discovery TV series Into the Unknown, and a question setter for the BBC's quiz show Mastermind. I am a Scientific Fellow of the Zoological Society of London, a Fellow of the Royal Entomological Society, a Member of the Society of Authors, and the Cryptozoology Consultant for the Centre for Fortean Zoology (CFZ). I have written articles for numerous publications, including Fortean Times, The X Factor, Paranormal Magazine, FATE, Strange Magazine, Prediction, Beyond, Uri Geller's Encounters, Phenomena, Alien Encounters, Wild About Animals, All About Cats, All About Dogs, Cat World, etc. In 2005, I was honoured by the naming of a new species of loriciferan invertebrate after me - Pliciloricus shukeri.