Posted by: Karl Shuker on September 12th, 2017
One of cryptozoology's most iconic images is the so-called Ozenkadnook Tiger Photograph, reproduced below. It depicts a large, seemingly dark-bodied, white-striped Australian mystery beast supposedly snapped in b/w during 1964 by Melbourne-based Rilla Martin while holidaying in Victoria. She had apparently been driving along a dirt track near Ozenkadnook when she saw the creature at the edge of some woods, and after stopping the car she managed to snap a single photo of it before it ran off. In typical cryptozoological tradition, the photo's depiction of the beast is far from clear; but as its burly head looks vaguely dog-like, it has inspired various Aussie cryptid enthusiasts to speculate that the striped creature may be a living mainland thylacine Thylacinus cynocephalus. Yet this externally wolf-like marsupial officially died out here over 3,000 years ago, i.e. long before its official extinction on Tasmania in 1936.
Less contentious options on offer include a dingo or a domestic dog, whereas more sceptical views have leaned toward an unspecified hoax of some kind. With no consensus of opinion surfacing, the controversy as to what Martin's photo really depicts has rumbled on for over 50 years, but in a newspaper article earlier this year a remarkable new allegation was made. Namely, that the beast was nothing more than a large cardboard cut-out, created, painted with stripes, and then photographed in the bush by the father of one Bill Leak – a recently-deceased newspaper cartoonist – with a friend. Bill's father was apparently well known for his love of practical jokes, and the allegation was made in The Australian on 24 March 2017 by 'Jack the Insider', aka columnist Peter Hoysted, who had known Bill and had included this claim as part of a memorial article regarding him.
Further details can be accessed here on my ShukerNature blog.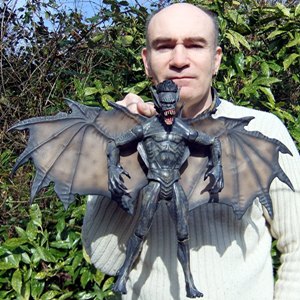 About Karl Shuker
My name is Dr Karl P.N. Shuker. I am a zoologist (BSc & PhD), media consultant, and the author of 25 books and hundreds of articles, specialising in cryptozoology and animal mythology. I have a BSc (Honours) degree in pure zoology from the University of Leeds (U.K.), and a PhD in zoology and comparative physiology from the University of Birmingham (U.K.). I have acted jointly as consultant and major contributor to three multi-author volumes on cryptozoology and other mysterious phenomena. I am the Life Sciences Consultant to The Guinness Book of Records/Guinness World Records (Guinness: London, 1997-present day), and was consultant to Monsters (Lorenz Books: London, 2001), as well as a contributor to Mysteries of the Deep (Llewellyn: St Paul, 1998), Guinness Amazing Future (Guinness: London, 1999), The Earth (Channel 4 Books: London, 2000), and Chambers Dictionary of the Unexplained (Chambers: London, 2007). I appear regularly on television & radio, was a consultant for the Discovery TV series Into the Unknown, and a question setter for the BBC's quiz show Mastermind. I am a Scientific Fellow of the Zoological Society of London, a Fellow of the Royal Entomological Society, a Member of the Society of Authors, and the Cryptozoology Consultant for the Centre for Fortean Zoology (CFZ). I have written articles for numerous publications, including Fortean Times, The X Factor, Paranormal Magazine, FATE, Strange Magazine, Prediction, Beyond, Uri Geller's Encounters, Phenomena, Alien Encounters, Wild About Animals, All About Cats, All About Dogs, Cat World, etc. In 2005, I was honoured by the naming of a new species of loriciferan invertebrate after me - Pliciloricus shukeri.