Posted by: Nick Redfern on July 4th, 2012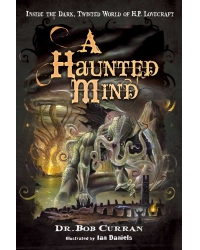 When it comes to strange creatures, menacing monsters and unearthly beasts in the realm of fiction, probably no-one did it better than H.P. Lovecraft. And, if you're a devotee of the master, you won't want to miss this, which is published next month: A Haunted Mind: Inside the Dark, Twisted World of H.P. Lovecraft, which is written by Dr. Bob Curran.
Here's a glimpse – from the publisher, New Page Books – of what we can expect:
"Arguably no American writer has had more of an impact on the modern horror scene than Howard Phillips Lovecraft, the man who created the Cthulhu Mythos, with its strange gods, eerie places, and forbidden books. But what sort of a man was Lovecraft, how did he create such a terrible universe, and where did his inspiration come from? Was it, as some have argued, based on esoteric knowledge forgotten or even denied to all sane people?
"In A Haunted Mind, Dr. Bob Curran explores what motivated Lovecraft—his personal life is just as strange as some of his creations—and drove him to create his terrible cosmos. Using both folklore and history, Dr Curran investigates a wide variety of Lovecraftian mysteries.
"A word of warning: you may never look at Lovecraft—or the world—in exactly the same way again!"

About Nick Redfern
Punk music fan, Tennents Super and Carlsberg Special Brew beer fan, horror film fan, chocolate fan, like to wear black clothes, like to stay up late. Work as a writer.