Posted by: Nick Redfern on August 15th, 2012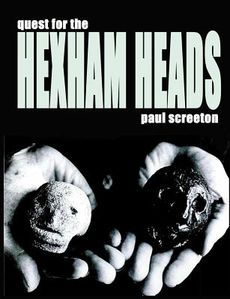 I have mentioned here on several occasions, my fascination for a very weird tale of Fortean proportions – but one with undeniable cryptozoological ties and overtones. It concerns what have become known as the Hexham Heads: two carved heads found in the north of England in 1972, the discovery of which seemed to kick off a spate of unsettling encounters with phantom-like, werewolf-style beasts.
And no-one knows more about this saga than Paul Screeton, who has been pursuing the matter for years. Decades, actually. And now, finally, Paul's full-length book on the matter, Quest for the Hexham Heads, is about to be unleashed: at the Center for Fortean Zoology's Weird Weekend (which runs from this coming Friday to Sunday).
And here's the blurb for Quest for the Hexham Heads:
"Human heads have an enduring fascination. Believed to be Celtic, the carved Hexham Heads have cast a spell over all who have come into contact with them. Others have made examples in their image and those held by the author on this book cover are two such. On the left a replica created by the man who claimed to have made them in the 1950s. The other being made just ahead of a boy and his brother unearthing the subjects of this book. Since learning of the Hexham Heads and acquiring these 'archaic' facsimiles, Paul Screeton has spent forty years following what has been a QUEST FOR THE HEXHAM HEADS."
If you're into stories of werewolves in the real world, then this is a book not to be missed, as it's filled with all manner of twists and turns, interesting characters and much more!

About Nick Redfern
Punk music fan, Tennents Super and Carlsberg Special Brew beer fan, horror film fan, chocolate fan, like to wear black clothes, like to stay up late. Work as a writer.