Posted by: Nick Redfern on October 15th, 2012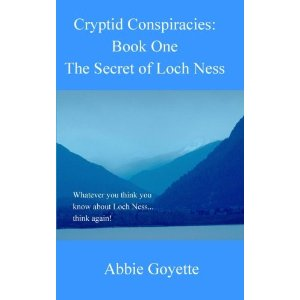 Cryptid Conspiracies: Book One, The Secret of Loch Ness, is the title of a new novel from Abbie Goyette. And it's a book about which we're told the following:
"Amber Mcpherson is summoned to Inverness in Scotland by a letter sent to her by her grandfather, right before he is killed. In the letter he tells her that his death, though labeled 'natural causes', is actually murder. He leaves Amber a trail of clues to follow; clues that hopefully only she will be able to understand. When a man calling himself a private investigator shows up with another letter written by her grandfather asking the P.I. to protect Amber, the two of them start off on an adventure that will forever change their lives. As threats on Amber's life continues, they uncover a trail of death and murder all linked to the greatest secret that Loch Ness has. The question is, will they survive long enough to figure it out?"
And, if you're a fan of crypto-fiction, you can buy the book right here…

About Nick Redfern
Punk music fan, Tennents Super and Carlsberg Special Brew beer fan, horror film fan, chocolate fan, like to wear black clothes, like to stay up late. Work as a writer.