Posted by: Nick Redfern on May 1st, 2012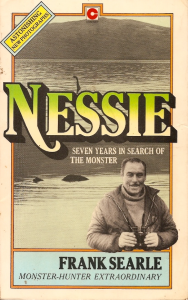 Over at the website of England's Crawley Observer newspaper, you can find a new article/profile on the Loch Ness Monster from Scottish researcher and author Malcolm Robinson. In the article, Robinson outlines the history and theories relative to what the creatures of Loch Ness, Scotland may or may not be.
But, what I found particularly intriguing is that Robinson includes at the end of the article something I had not seen before, namely, an interview he conducted years ago with one of the most infamous characters in Loch Ness Monster research and writing: Frank Searle. If you don't know who Searle was, and why he became so controversial in cryptozoological circles, well, you can find out right here.
And, to read Malcolm Robinson's article in-full, here's the link.

About Nick Redfern
Punk music fan, Tennents Super and Carlsberg Special Brew beer fan, horror film fan, chocolate fan, like to wear black clothes, like to stay up late. Work as a writer.