Posted by: Karl Shuker on November 29th, 2016
It has been 21 years since the original publication back in 1995 of In Search of Prehistoric Survivors, considered by many to be my finest cryptozoological volume. Not surprisingly, then, in subsequent years there has been a growing, persistent clamour among its numerous fans worldwide for me to prepare a new, updated edition. Now, at last, fulfilling a longstanding promise, I have done so – and what an update it is!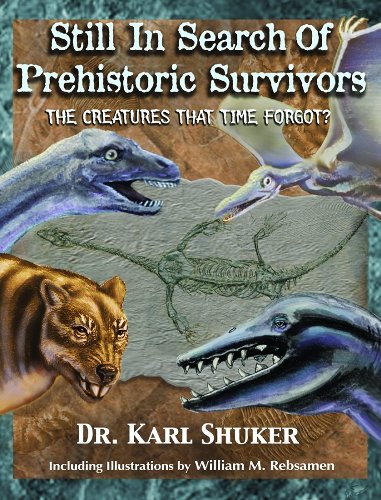 At over 600 pages long, with a word count of almost 260,000, more than 300 colour and b/w illustrations (including many stunning renditions plus spectacular cover artwork by acclaimed crypto-artist William M. Rebsamen), and a brand-new foreword penned by fellow crypto-chronicler Michael Newton, this is both a massively-expanded new edition of the original volume and a valid stand-alone book in its own right, because it contains many entirely new cryptids as well as updates for all of those previously included here. The result is the most comprehensive documentation and analysis ever published of those diverse mystery beasts that at one time or another have been postulated to be bona fide prehistoric survivors.
Still in Search of Prehistoric Survivors: The Creatures That Time Forgot? is available for pre-order at Amazon.com.
Further information can be accessed here on my ShukerNature blog.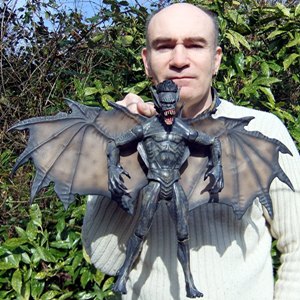 About Karl Shuker
My name is Dr Karl P.N. Shuker. I am a zoologist (BSc & PhD), media consultant, and the author of 25 books and hundreds of articles, specialising in cryptozoology and animal mythology. I have a BSc (Honours) degree in pure zoology from the University of Leeds (U.K.), and a PhD in zoology and comparative physiology from the University of Birmingham (U.K.). I have acted jointly as consultant and major contributor to three multi-author volumes on cryptozoology and other mysterious phenomena. I am the Life Sciences Consultant to The Guinness Book of Records/Guinness World Records (Guinness: London, 1997-present day), and was consultant to Monsters (Lorenz Books: London, 2001), as well as a contributor to Mysteries of the Deep (Llewellyn: St Paul, 1998), Guinness Amazing Future (Guinness: London, 1999), The Earth (Channel 4 Books: London, 2000), and Chambers Dictionary of the Unexplained (Chambers: London, 2007). I appear regularly on television & radio, was a consultant for the Discovery TV series Into the Unknown, and a question setter for the BBC's quiz show Mastermind. I am a Scientific Fellow of the Zoological Society of London, a Fellow of the Royal Entomological Society, a Member of the Society of Authors, and the Cryptozoology Consultant for the Centre for Fortean Zoology (CFZ). I have written articles for numerous publications, including Fortean Times, The X Factor, Paranormal Magazine, FATE, Strange Magazine, Prediction, Beyond, Uri Geller's Encounters, Phenomena, Alien Encounters, Wild About Animals, All About Cats, All About Dogs, Cat World, etc. In 2005, I was honoured by the naming of a new species of loriciferan invertebrate after me - Pliciloricus shukeri.