Posted by: Nick Redfern on May 26th, 2013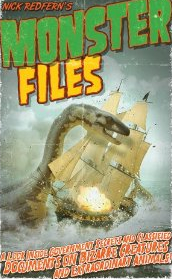 Over at the "Before It's News" site, there's a newly-posted Q& with me about my latest book, Monster Files.
You can find the interview right here, and here's a taster from it:
"What is the general theme of Monster Files and why did you write the book?"
"ANSWER: The book is basically a study of how, and why, government agencies have taken an interest in reports of strange creatures. This includes Bigfoot, lake-monsters, sea-serpents, werewolves, the Abominable Snowman, and many more. I obtained a lot of official documents concerning official, secret interest in all the above."
"Can you tell us about the conspiracy of the World War Two Werewolf?"
"ANSWER: Werewolves are a big interest of mine, and I include in the book the story of a hair-covered man shot and killed on British soil during the Second World War. A big cover-up was put into place, as the man was a member of a rich and powerful family in the English county of Devonshire. The man may have been suffering from a condition called Hypertrichosis, which causes the body and face to develop massive amounts of hair. But, it led to rumors a real-life werewolf was shot. Who knows, maybe that's the real answer!"

About Nick Redfern
Punk music fan, Tennents Super and Carlsberg Special Brew beer fan, horror film fan, chocolate fan, like to wear black clothes, like to stay up late. Work as a writer.