Posted by: Nick Redfern on June 24th, 2012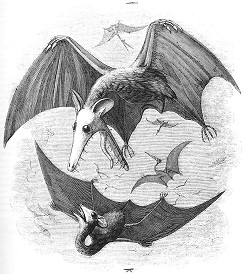 There's a new article from me at Mysterious Universe that starts as follows:
"Just a few days ago, at my World of Whatever blog, I wrote a post that addressed just a few of the uncanny parallels between the Japanese 1961 monster-movie, Mothra, and some of the cases and events featured in John Keel's classic book, The Mothman Prophecies. But, what I also did was to focus on the possibility that perhaps art – whether movies, novels or whatever – can fire up the imagination to such an extent that the collective unconscious can externalize into quasi-physical form those "things" purely born out of fiction. As noted Fortean author Colin Bennett told me: "When we imagine, we create a form of life."
"And, I have been doing a bit of further digging into this area of fiction and Forteana, and one of the most notable issues to have caught my attention is that concerning a 1969 movie, The Valley of Gwangi. It stars James Franciscus, Gila Golan and Laurence Naismith who get caught up in a monstrous caper involving still-surviving dinosaurs that inhabit a hidden valley in Mexico. Among those same dinosaurs are an Allosaurus, an Ornithomimus and a Styracosaurus. And there's another beast, too: a vicious pteranodon that circles the skies menacingly.
"Well, it so happens that from the 1970s onwards there has been an intriguing number of reports of pterosaur-style creatures in and around the Texas/Mexico border and certain other parts of south Texas."
Is it possible that some of these events were a by-product of the film and along the lines of Colin Bennett's "When we imagine, we create a form of life"-type theory?

About Nick Redfern
Punk music fan, Tennents Super and Carlsberg Special Brew beer fan, horror film fan, chocolate fan, like to wear black clothes, like to stay up late. Work as a writer.