Posted by: Lyle Blackburn on August 13th, 2014
Many folks have asked what I thought about Bobcat Goldthwait's new Bigfoot movie, WILLOW CREEK.  I was lucky enough to attend a screening with Bobcat himself (see earlier post) and more recently view a screener of the released film.  Rue Morgue magazine has kindly allowed me to reprint my review (which appeared in their July issue) for Cryptomundo.
WILLOW CREEK
Starring Bryce Johnson and Alexie Gilmore
Written and Directed by Bobcat Goldthwait
MPI
If you know anything about Bobcat Goldthwait, you're probably wondering what fluke in the horror universe landed him in a director's chair. Goldthwait – for those not familiar – is an actor/comedian best known for his goofy, high-pitched voice and recurring role in the string of 1980s Police Academy movies. But forget that. In the last decade, the comedian turned his talents to directing and writing where he's earned accolades for his black comedies World's Greatest Dad (2009) and God Bless America (2011). Now, fortunately for us, he's taken a stab at a horror film where he proves that sometimes the most unlikely director can make a fresh footprint on familiar ground.
In Willow Creek, Goldthwait uses the found-footage template to weave a terror tale in the land of bigfoot. The story takes place in Humboldt County, California, where in 1967 Roger Patterson and Bob Gimlin shot the iconic film that purportedly shows one of these creatures walking along a dry riverbed. Now, over 46 years later, bigfoot enthusiast Jim – Bryce Johnson (Pretty Little Liars) – along with his reluctant girlfriend Kelly (Alexie Gilmore), embark on a road trip with the purpose of visiting the P-G Film site and perhaps capturing his own iconic bigfoot film. Along the way, the couple stops in Willow Creek – the "bigfoot capital" of the world – where they soak up some sasquatch culture and interview locals whose stories imply that perhaps Jim and Kelly should rethink their goal. Eventually though, the couple make their way deep into the Six Rivers National Forest where they set up camp. Over the the next two nights, Jim and Kelly are subject to spooky experiences and outright terror as they reconsider their preconceived notions about the reality of bigfoot and just what horrors that reality may hold.
A found-footage approach can often be a pitfall, but Goldthwait uses the format effectively. The interplay of Jim's hand-held camera is natural and plausible, and the actors themselves are convincing throughout. While the movie ramps up into a truly dark and frightening climax, it offers tension and even humor as it slowly twists the bigfoot legend away from the huggable pop culture version into something much more creepy. The best thing about Willow Creek, however, is that it's simply a good horror movie. It may thread its needle with the shadow of bigfoot, but it doesn't rely on this point alone to sew the tale. The movie instead relies on Goldthwait's skilled directing and writing to provide an entertaining journey and one hell of an ending!
Available on Amazon.com to rent for $6.99, own in SD for $14.99 or HD for $19.99.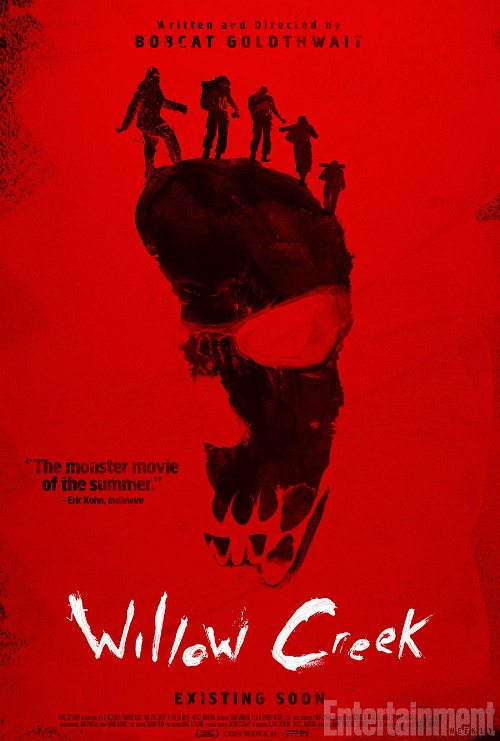 About Lyle Blackburn
Lyle Blackburn is an author, musician, and cryptid researcher from Texas. His investigative cryptozoology books, such as "The Beast of Boggy Creek," "Beyond Boggy Creek," and "Lizard Man," reflect his life-long fascination with legends and sighting reports of unknown creatures. During his research, Lyle has often explored the remote reaches of the southern U.S. in search of shadowy beasts said to inhabit the dense backwoods and swamplands of these areas. Lyle has been heard on numerous radio programs, including Coast To Coast AM, and has appeared on television shows such as Monsters and Mysteries in America and Finding Bigfoot. Lyle is also a writer for the monthly horror magazine, Rue Morgue, and was recently featured in the documentary film, Boggy Creek Monster. For more information, visit Lyle's website at: www.lyleblackburn.com