Posted by: Karl Shuker on January 25th, 2014
Facebook never disappoints me as a rich source of the exceedingly weird but also very wonderful when it comes to the animal world, and yesterday was no exception. During its early hours, I was browsing the recent posts of various FB friends when I came upon a quartet of photographs depicting a truly remarkable- (and macabre-) looking bird, equipped with a disproportionately huge mouth as well as large, unearthly black eyes.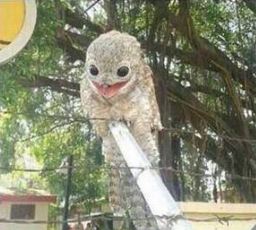 Researching these photos online, I discovered that there has apparently been much wild speculation among non-ornithologists concerning the nature of this extraordinary bird. Some contributors have voiced the opinion that it is an alien creature, or even a demonic entity, and others that it is an effigy or a taxiderm gaff (presumably one with a beak capable of opening and closing, judging from the differences in beak appearance present in the photos!) created specifically to fool or horrify its observers. The reality, however, as I readily recognised was something very different indeed – but no less interesting either!
Further information can be found here on my ShukerNature blog.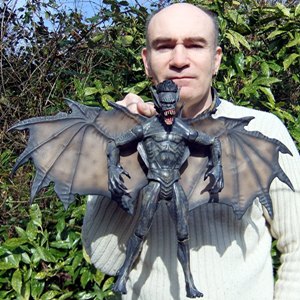 About Karl Shuker
My name is Dr Karl P.N. Shuker. I am a zoologist (BSc & PhD), media consultant, and the author of 25 books and hundreds of articles, specialising in cryptozoology and animal mythology. I have a BSc (Honours) degree in pure zoology from the University of Leeds (U.K.), and a PhD in zoology and comparative physiology from the University of Birmingham (U.K.). I have acted jointly as consultant and major contributor to three multi-author volumes on cryptozoology and other mysterious phenomena. I am the Life Sciences Consultant to The Guinness Book of Records/Guinness World Records (Guinness: London, 1997-present day), and was consultant to Monsters (Lorenz Books: London, 2001), as well as a contributor to Mysteries of the Deep (Llewellyn: St Paul, 1998), Guinness Amazing Future (Guinness: London, 1999), The Earth (Channel 4 Books: London, 2000), and Chambers Dictionary of the Unexplained (Chambers: London, 2007). I appear regularly on television & radio, was a consultant for the Discovery TV series Into the Unknown, and a question setter for the BBC's quiz show Mastermind. I am a Scientific Fellow of the Zoological Society of London, a Fellow of the Royal Entomological Society, a Member of the Society of Authors, and the Cryptozoology Consultant for the Centre for Fortean Zoology (CFZ). I have written articles for numerous publications, including Fortean Times, The X Factor, Paranormal Magazine, FATE, Strange Magazine, Prediction, Beyond, Uri Geller's Encounters, Phenomena, Alien Encounters, Wild About Animals, All About Cats, All About Dogs, Cat World, etc. In 2005, I was honoured by the naming of a new species of loriciferan invertebrate after me - Pliciloricus shukeri.