Posted by: Craig Woolheater on April 3rd, 2017
Did any Cryptomundians see any cryptid or Bigfoot April Fools' Day pranks this year?
I spotted two. First up Bigfoot: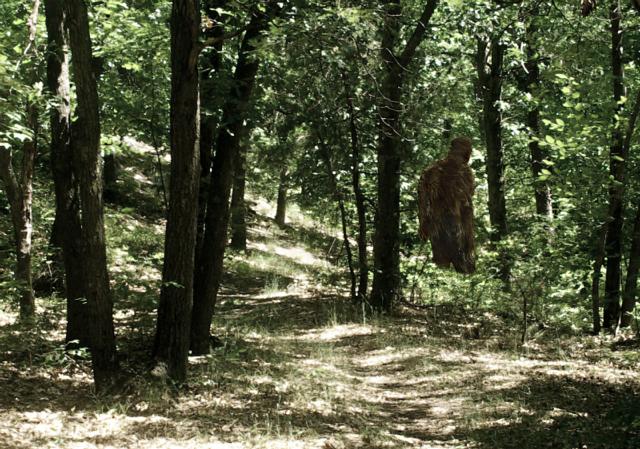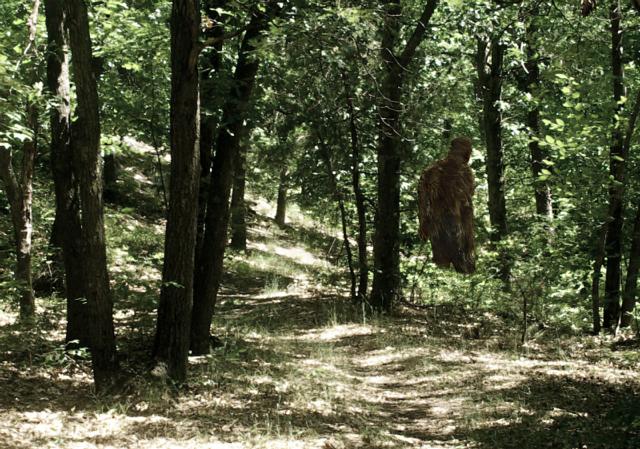 Steve French captured this photo while hiking through the TNI trails over the summer. (this photo has been zoomed to get a better look at the creature.)
Creature spotted at The Nature Institute: Park officials advising caution to hikers
GODFREY – Trails opened at dawn Saturday, April 1 at The Nature Institute (TNI) in Godfrey, but TNI Executive Director Angie Moan said hikers should exercise caution when hiking TNI's trails.
Moan said several individuals working on trails have spotted what seems to be an animal with which no one at the park has experienced. Moan said reports to her office have included spotting a bipedal creature at least seven feet tall and 350 pounds. While this may sound a lot like the mythical Bigfoot, Moan said she does not want to jump to conclusions. She said hikers and TNI workers have spotted several different animals and even a few people who are at the park after hours.
And the other one involving the Lake Champlain Monster, Champ: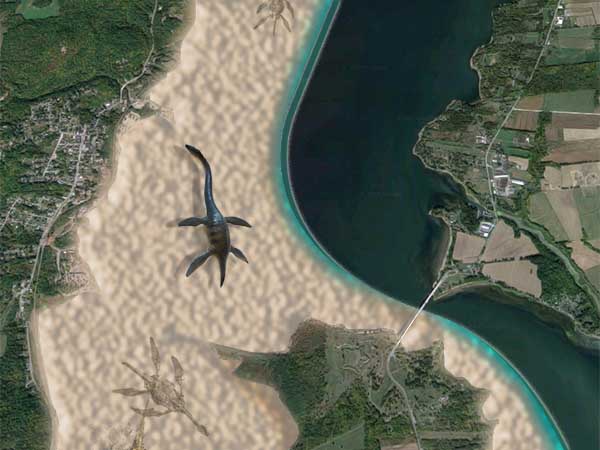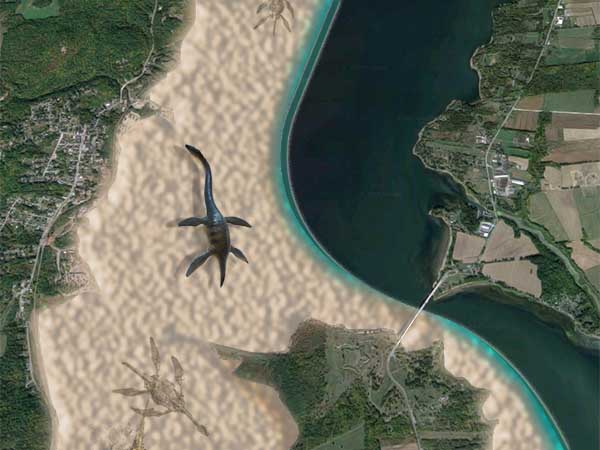 Computer Rendering of Proposed Lake Project
Port Henry, NY, March 31, 2017- Local Officials unveil a major project aimed at confirming the existence of "Champ," the Lake Champlain Monster, once and for all.
"This will be a shot in the arm for tourism," stated Super Town Advisor, Bean Favascossa. "This is a huge undertaking that has been in the works for many years. Lake Champlain already has great waterfront activities like boating and fishing, but once Champ is declared real then people are gonna wanna piece of that action."
Early drafts of the plan sought to drain the water from Lake Champlain long enough to see what's on the bottom. It was originally slated to be a bi-state endeavor with Vermont, which also borders Lake Champlain, until Vermont pulled out, raising objections over environmental concerns.
If you saw any, share them in the comments below!
Pranks from years' past:
Any April Fools' Day Cryptid Pranks?
April Fools' Day Cryptids
April Fools' Day Cryptids?
All-Time Best Cryptozoology April Fools' Jokes
The First April Fools' Sasquatch Joke
April Fool's Quiz
Foolish Colorado Bigfoot Hoax
About Craig Woolheater
Co-founder of Cryptomundo in 2005. I have appeared in or contributed to the following TV programs, documentaries and films: OLN's Mysterious Encounters: "Caddo Critter", Southern Fried Bigfoot, Travel Channel's Weird Travels: "Bigfoot", History Channel's MonsterQuest: "Swamp Stalker", The Wild Man of the Navidad, Destination America's Monsters and Mysteries in America: Texas Terror - Lake Worth Monster, Animal Planet's Finding Bigfoot: Return to Boggy Creek and Beast of the Bayou.