Posted by: Craig Woolheater on November 14th, 2014
Ron Morehead is the father of the "Sierra Sounds". It's one of the best evidence supporting the existence of Bigfoot. Morehead gave this hair-raising interview with Dreamland not too long ago. Morehead explains the strange creatures and their personalities:
"When the other hunters and I first encountered a family of these creatures in 1971, although we had guns, we were still concerned. Their aggressive, intimidating vocalizations were huge and extremely disrupting. However, after the initial intimidation we realized their intentions were not to harm us, but perhaps toy with us. So we relaxed a bit.
That being said, a few years went by, never captured a picture, but were fortunate enough to capture their vocalizations. By 1974 their intimidating sounds moved more toward communicative. We looked forward to interacting with them, we left food for them to eat and they left pine-cones for our fire. I felt a definite kinship developing, but I always wondered, "What are they? Why won't they come out from behind those big trees and really make friends with me"…rarely did we catch a glimpse, but after all this time they still kept their secrets at bay.
For years I've heard reports of them harassing people by throwing rocks, stalking them from the bushes, or just messing around. And for so long I've carefully kept those reports inside, thinking, "What's missing from these pictures?" They haven't attempted to hurt me or any of the others at our Sierra Camp. They are like a reclusive, hidden, aboriginal people…they must have a very pertinent reason for being the way they are.
Like most animals, they are different in their personalities, yet from my experience around them, they are also cognizant. I've written about this in several articles and included many of them in my book, "Voices in the Wilderness.""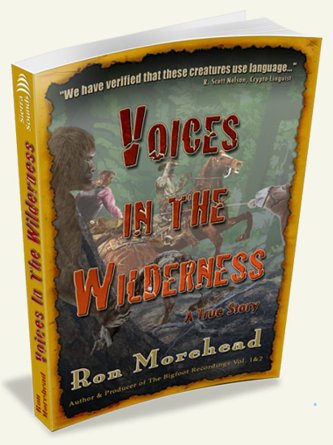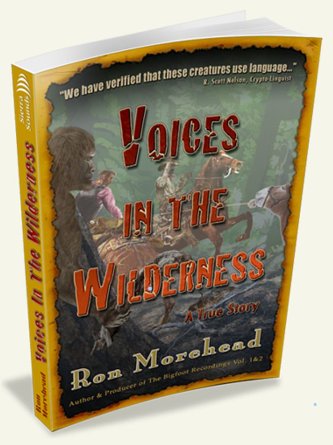 See also:
Best Sasquatch-Bigfoot Campsite
Bigfoot/Sasquatch and the Dilution Factor
The Quantum Bigfoot Theory
What Makes the Sierra Sounds Credible?
Repeat Sasquatch Encounters at Ron Morehead's Sierra Camp
Linguists Battle Over Bigfoot Language
Ron Morehead: The Nephilim Concept
How to Have "Bigfoot Interaction"
The Sound of Sasquatch?
Sierra Sounds' Al Berry Has Died (Updated)
Do Bigfoot Have A Language?
English Language on Bigfoot Audiotape?
#BigfootSounds #RonMorehead #SierraSounds
About Craig Woolheater
Co-founder of Cryptomundo in 2005. I have appeared in or contributed to the following TV programs, documentaries and films: OLN's Mysterious Encounters: "Caddo Critter", Southern Fried Bigfoot, Travel Channel's Weird Travels: "Bigfoot", History Channel's MonsterQuest: "Swamp Stalker", The Wild Man of the Navidad, Destination America's Monsters and Mysteries in America: Texas Terror - Lake Worth Monster, Animal Planet's Finding Bigfoot: Return to Boggy Creek and Beast of the Bayou.