Posted by: Craig Woolheater on September 28th, 2007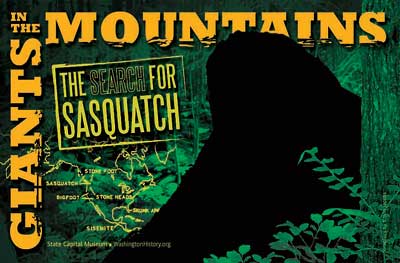 For Immediate Release, September 24, 2007
Press Release
Contact: Susan Rohrer, State Capital Museum, srohrer@wshs.wa.gov,
360/586-0166
Giants in the Mountains; The Search for Sasquatch
A new exhibit at the State Capital Museum
Opening October 6, 2007
State Capital Museum and Outreach Center
211 21st Avenue SW
Olympia, Washington 98501
(360) 753- 2580
WashingtonHistory.org
Opening is free and open to the public
(Olympia, WA–) Who or What is Sasquatch? Why are sightings in Washington the highest in the nation?
This exploration of the Sasquatch story focuses on the Pacific Northwest environment which has created a rich setting for the traditional beliefs that have grown up around this being. The relationship of Northwesteners to the land, particularly its deep forests and imposing mountains, has led explorers and travelers further into the depths of our region.
A year-long exhibit, opening on Saturday October 6, 2008 with a day and evening program of special events and activities. See the schedule below.
How have scientists attempted to explain and investigate the Sasquatch phenomena? Physical evidence collected in the field by anthropologist Dr. Grover Krantz will be on display. Discovery Channel expert and Bigfoot author, Dr. Jeffery Meldrum of Idaho State University has contributed to the exhibit recently gathered field evidence including special foot and hand casts.
Supposed hoaxes and popular cultural interpretations of Bigfoot are featured in the exhibit including memorabilia from the Sasquatch Music Festival, Bigfoot Ale, Sasquatch Press, and the Seattle SuperSonics Squatch Collection. Squatch himself will be on-hand to greet children and tour the exhibit.
World-wide and across time, tales of larger-than-life creatures have been believed. Tribal artifacts and artworks will convey Native cultural beliefs. On loan from the Maryhill Museum of Art is a prehistoric, ape-like Stone Head found in the Columbia Basin. Created especially for the exhibit is a full size mural of the legendary Dzoonokwa or Basket Women of the forests. Carved mask by renowned Native Artist Pete Peterson, Sr. and artwork by Sean Peterson are featured in the gallery. From werewolves to wild men, stories of beings both animal and man have been told across time. Some of these legends are explored in the exhibit.
Discover the unique Northwest connection to Sasquatch and Bigfoot. A display of rare, early images of Washington's old growth forests compliment student learning. Designed to introduce children to the connection between our environment and regional culture, students can explore the mysteries of the Pacific Northwest through hands-on activities.
Of special interest is the appearance in western Washington of three giants of the story of Sasquatch. Dr. Robert Michael Pyle, Dr. Jeffrey Meldrum, and Mr. Peter Byrne.
Dr. Meldrum of Idaho State University and author of Sasquatch: Legend Meets Science. Dr. Meldrum is frequently seen on the Discovery Channel, the History Channel, and the National Geographic Channel among others. His book is the companion volume to the highly successful Discovery Channel documentary of the same name. A professor of anatomy and anthropology, his work encompasses the evaluation of hominid footprints, including those attributed to Sasquatch, both in the lab and the field. The exhibit features casts made recently by Dr. Meldrum in eastern Washington.
Dr. Robert Michael Pyle, a world-renowned naturalist, wrote the definitive study of Sasquatch in the northwest in his book Where Bigfoot Walks, Crossing the Dark Divide. In this work Dr. Pyle chronicles his own personal story of searching for Sasquatch in the Cascade Mountain range near Mt. St. Helens and his essays have provided the inspiration for this exhibit. He writes on page 17:
"If we manage to hang on to a sizeable hunk of Bigfoot habitat, we will at least have a fragment of the greatest green treasure the temperate world has ever known. If we do not, Bigfoot, real or imagined, will vanish; and with its shadow will flee the others who dwell in that world. Looking at that tangled land, one can just about accept that Sasquatch could coexist with towns and loggers and hunters and hikers, all in proportion. But when the topography is finally tamed outright, no one will anymore imagine that giants are abroad in the land."
Special guest is Mr. Peter Byrne who has led two expeditions to hunt for Bigfoot in the Northwest, one in 1960s. The second in 1990 was a full-scale monster search, complete with helicopters, infra-red sensors and 1-800-BIGFOOT phone number. Today, Byrne is semi-retired in the Bigfoot field and continues his tourist/adventure work around the world. Famous for his on-going search for Yeti in Nepal Mr. Byrne will speak about his adventures searching for Sasquatch and Yeti. He is featured in the film Sasquatch Odyssey, The Hunt for Bigfoot which is an important part of the museum's exhibit.
Exhibit Opening Schedule, Saturday, October 6, 2007. 11 AM to 8 PM
Events are free and open to the public, donations appreciated.
11 AM: Hands on Explorative Activities for Children
1 – 2 PM: Meet Squatch of the Seattle SuperSonics
2 to 3 PM: Native Storytelling with Harvest Moon of the Quinault tribe
2 to 3:30 PM: Book signing and informal author conversation with Mr. Peter Byrne, Dr. Jeffrey Meldrum, and Dr. Robert Michael Pyle
3:30 to 4 PM: Presentation by Mr. Peter Byrne
4 to 5 PM: Sasquatch, Legend Meets Science- Presented by Dr. Jeffrey Meldrum
7 to 8 PM: Where Bigfoot Walks; Crossing the Dark Divide- Presented by Dr. Robert Michael Pyle
The State Capital Museum is located in Olympia six blocks south of the Capitol Building at 211 21st Avenue South West. The State Capital Museum is a division of the Washington State Historical Society. The museum presents exhibits, programs, and events that bring to life the stories of Washington's history. For more information, please call the State Capital Museum at 360-753-2580, or visit us on the web at www.washingtonhistory.org.
Exhibit photos and author photos available upon request.
About Craig Woolheater
Co-founder of Cryptomundo in 2005. I have appeared in or contributed to the following TV programs, documentaries and films: OLN's Mysterious Encounters: "Caddo Critter", Southern Fried Bigfoot, Travel Channel's Weird Travels: "Bigfoot", History Channel's MonsterQuest: "Swamp Stalker", The Wild Man of the Navidad, Destination America's Monsters and Mysteries in America: Texas Terror - Lake Worth Monster, Animal Planet's Finding Bigfoot: Return to Boggy Creek and Beast of the Bayou.