Posted by: Craig Woolheater on February 1st, 2015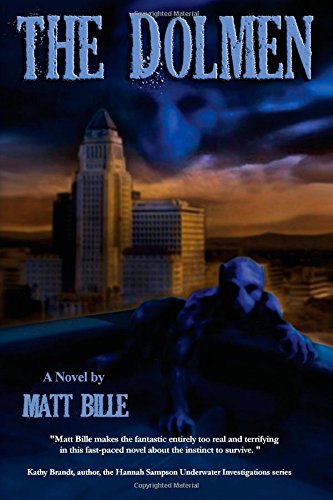 A cryptozoological novel by Matt Bille:
CRYPTOZOOLOGIST MATT BILLE RELEASES FIRST NOVEL, THE DOLMEN
1/31/2015
Matt Bille, a cryptozoologist and writer known for his scientific approach in well-researched books such as 2006's Shadows of Existence: Discoveries and Speculations in Zoology, has published his first novel, The Dolmen (Wolfsinger Publications, 2014).
The Dolmen is a cryptozoological horror novel with a dash of police procedural. "I wanted to explore what would really happen if a dangerous creature got loose in a modern city," the author says. "What would police and the media really do?" He talked to police, scientists, and others to get the background of this fast-paced thriller right.
In The Dolmen, the titular megalithic tomb has been moved illegally from Britain to a Los Angeles museum. But moving to a warmer climate wakes up a creature of legend, and the horror begins. When a magazine writer studying the dolmen is found brutally and inexplicably murdered, his fiancé, Julie Sperling, calls on her old flame, science writer and novelist Greg Preston, for support. As the death toll mounts, Greg begins to suspect something nonhuman is trying to survive by killing everyone who might know of its existence… and Greg and Julie are next.
Matt set out to write horror, but his cryptozoological interests kept showing up. It wasn't enough to create a creature out of English legend; he had to work out how it sensed its environment, what its anatomy and physiology were like, and how it survived centuries in the dolmen. All the creature's abilities, such as its incredible sense of smell and resistance to gunfire, had to have plausible explanations and analogies in known animals. Matt is proud of the result.
"Too often in cryptofiction, the science gets handwaved," he says. "To me, a monster is a lot scarier if it's believable. It also makes for a better story if the reader can sympathize a little with it and understand why it's killing people." The creatures of The Dolmen are lost and desperate, but they are also ruthless, cunning, and possessed of abilities that mean even armed police are at risk of being ripped apart. Our heroes would seem to have no chance, but Greg's knowledge of legends and science, Julie's courtroom logic, and the heroics of initially-disbelieving detectives and SWAT officers result in a running battle through and under Los Angeles as two people try to stay alive and solve the scientific mystery of the century. They must solve the mysteries of each other, too: Julie's heart is raw from burying her fiancée, but she and Greg have an old connection that reveals itself unbidden during their life-and-death struggle. "Any good story has to be a good people story," Matt says. "I like to explore how believable people face unbelievable events." He revisited his old home city (he went to college in LA) to get all the details right.
Matt's previous work includes the newsletter Exotic Zoology (1994-1999), his two books on zoology and cryptozoology, and a critically praised history of the early Space Age, The First Space Race (Texas A&M, 2004). Upcoming projects include a book on marine life and legends, Seas, Sharks, and Serpents, another cryptozoological novel, Apex Predator, and many more. A former Air Force officer and now a defense consultant as well as an author, he lives with his family in Colorado Springs, Colorado.
He writes Matt's Sci/Tech Blog, and has a website. He enjoys hearing from readers at mattwriter@earthlink.net.
About Craig Woolheater
Co-founder of Cryptomundo in 2005. I have appeared in or contributed to the following TV programs, documentaries and films: OLN's Mysterious Encounters: "Caddo Critter", Southern Fried Bigfoot, Travel Channel's Weird Travels: "Bigfoot", History Channel's MonsterQuest: "Swamp Stalker", The Wild Man of the Navidad, Destination America's Monsters and Mysteries in America: Texas Terror - Lake Worth Monster, Animal Planet's Finding Bigfoot: Return to Boggy Creek and Beast of the Bayou.