Posted by: Craig Woolheater on March 24th, 2015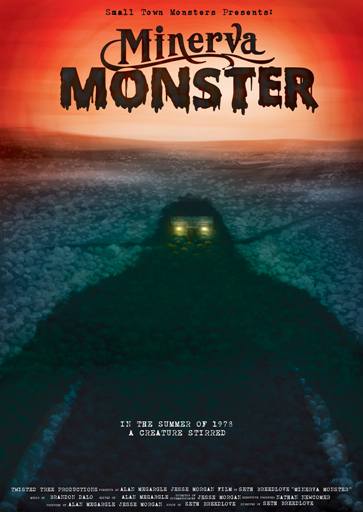 Reporter, deputy, family play key roles in 'Minerva Monster,' look back at 1978 sightings in Stark County
They still talk about the Minerva Monster — a large hairy creature that lurked in a wooded area in 1978.
The creature that lured Bigfoot hunters and curiosity seekers to southern Stark County is now the subject of a documentary.
Former Beacon Journal reporter Barbara Galloway said that of the thousands of articles she penned for the newspaper, she is best remembered for the tales of the monster.
Galloway, now an Alliance High School teacher, said those stories will never go away. She, along with retired Stark County sheriff's deputy James Shannon and Howe Cayton, whose family was at the center of the monster sightings, are key players in the new film about the monster being produced by four men from Northeast Ohio.
Seth Breedlove, 33, of Wadsworth; Alan Megargle, 42, of Painesville; Brandon Dalo, 25, of Akron; and Jesse Morgan, 42, of Mentor, are the visionaries behind the film The Minerva Monster.
The film will premiere May 16, appropriately enough, at a Bigfoot hunters' convention at Salt Fork State Park. It will also be a part of Monster Day on June 6 at the Roxy Theatre in Minerva.
The filmmakers are still editing the 45-minute movie that they hope will be part of a TV series about small-town monsters, said director Breedlove, a freelance writer, podcaster and medical bill processor.
Back in 1978, there were multiple reports of a tall, hairy, upright, 300-pound creature in a heavily wooded area in Paris Township, two miles west of Minerva.
There were about a dozen reports from seven witnesses who said they saw the creature over several weeks.
The sightings were front-page news, and hundreds of Bigfoot hunters descended on sleepy Minerva.
The creature sat on its haunches on the roof of an old chicken coop in one sighting.
One witness drove a car with its headlights on closer to the creature to get a better view. When the beast ran toward the car, the occupants ran back into the Cayton house where the creature later looked through the window at the occupants of the house. A gun was pointed at the creature; it didn't flinch or move.
There was a report that the creature might not have been alone.
The bigger one may have been accompanied by a smaller one.
Witnesses said the creature smelled like stagnant water or ammonia-sulfur.
Others saw it on a bank. Rocks were thrown at nearby homes at night.
Footprints ranging from 14 inches to 21 inches were later found.
Vegetables and fruit left out for the creature disappeared.
Witnesses at the time said it got very quiet outside whenever the creature was around.
An investigation by Shannon and his men offered no solid evidence of the monster's existence.
The Caytons were frightened by what happened and the family's account of what transpired that night never wavered, said Galloway, who revisited the Caytons in 1980.
The Caytons never recanted, despite heavy harassment from neighbors, she said.
The family never called the creature Bigfoot, saying they had no idea what it was.
For her part, Galloway has maintained an open mind.
"I don't know what to think," she said of the monster sightings.
The Caytons and others obviously saw something and the sheriff's department doesn't consider the sightings to be a hoax, Shannon said.
It was something that was seriously investigated, he said.
The film attempts to avoid heavy narratives and dramatic re-creations and instead will focus on witnesses offering their accounts, Breedlove said.
"We're just telling the story, and asking people to play detective and draw their own conclusions," he said. "There's no easy answer to what it might be."
Breedlove said he started work on the movie about 15 months ago. It benefited from a Kickstarter campaign that raised $6,516.
Some 120 copies or so of the film have been pre-ordered. They are available for $11.99 from Grassman Gear.
Breedlove said he already has his next Bigfoot film in mind, this time in Mansfield where monster sightings first were reported in 1959. He hopes to begin filming this summer.
See also:
Seeking small town monsters
Minerva Monster Documentary Kickstarter Launch
Cryptologic Radio Archive: Minerva Monster with Seth Breedlove and Paul Hayes
Did Bigfoot Really Visit Minerva in 1978?
Teaser Trailer for Minerva Monster
Sasquatch Chronicles: Show Notes with Shannon Archive-Seth Breedlove
SasWhat: Small Town Monsters presents Minerva Monster
Small Town Monsters: Minerva Monster
#SmallTownMonsters #MinervaMonster #SasWhat
About Craig Woolheater
Co-founder of Cryptomundo in 2005. I have appeared in or contributed to the following TV programs, documentaries and films: OLN's Mysterious Encounters: "Caddo Critter", Southern Fried Bigfoot, Travel Channel's Weird Travels: "Bigfoot", History Channel's MonsterQuest: "Swamp Stalker", The Wild Man of the Navidad, Destination America's Monsters and Mysteries in America: Texas Terror - Lake Worth Monster, Animal Planet's Finding Bigfoot: Return to Boggy Creek and Beast of the Bayou.