Posted by: Craig Woolheater on February 26th, 2015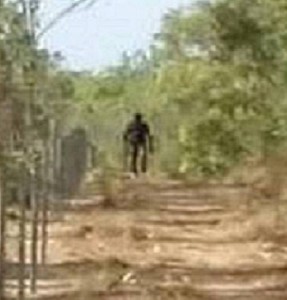 In October 2014, two men observed this 'being' from long range walking towards them. They thought it was workman in overalls and decided to wait for him to get closer. It wasn't until it got closer that they realized what they saw and took this picture on their phone before quickly leaving the area.
The description was 8-9ft tall, covered in jet black hair, large stomach and muscular neck and shoulders walking like a man. They observed it (when this picture was taken) from a distance of 70-80 meters away.
Read: Australian Yowie Photo Released »
---