Posted by: Craig Woolheater on December 24th, 2005
Reports from Bernama, the Malaysian National News Agency, of sightings of Bigfoot creatures in the forests of Malaysia. The indigenous peoples of Malaysia, the Orang Asli, call these creatures "Hantu Jarang Gigi". The name Orang Asli is a Malay term which translates as 'original peoples' or 'first peoples.'
Link to a map showing the location of the latest sighting.
The advisor to the Malaysian Nature Society states that the existence of Bigfoot in the area is certain, as there have been many witnesses. He also stated that the Malaysian Nature Society was prepared to conduct a scientific study of the creatures.
"Bigfoot exists. We have received reports from many people who said they had seen the creature in the forests of Tanjung Piai, Mersing, Kahang, the Endau Rompin National Park and Kota Tinggi," he said.
"They (the sightings) are not a new phenomenon. In fact, I regard this as a unique feature of the Johor's treasures and we must take steps to safeguard it," he told Bernama.
He said the latest sighting occurred last month in Kampung Mawai, Kota Tinggi, when three workers building a fish pond in the village claimed to have seen a Bigfoot family of two adults and a child.
The workers returned to the area and saw several footprints, some large and others small, including one 45cm long, he said.
"The footprints were proof of what the workers said they saw — a family of Bigfoot. Their claim is credible," he said.
He estimated that the creatures were between eight and 10 feet high, judging from the height of the branch of a tree that had been broken at the place. The creatures were believed to have brown-coloured fur, judging from some fur recovered there, and which had the smell of a human armpit.
An Orang Asli from the Jakun tribe from Kampung Puyut, Kahang, said his brother-in-law had seen the creatures, who were about 10 feet tall, while driving along a logging track at the Lenggor National Park last month.
An Orang Asli girl, five, who was lost for six days in the Lenggor National Park while searching for rattan with her family early this month, said she had seen a large "King Kong" with huge arms and covered with black fur.
She ran away from the creature, said her brother who narrated the story.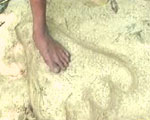 Reports from Bernama today state that the Johor National Parks Corporation is prepared to undertake a scientific study to verify the claims of the Bigfoot creatures in the jungles of Johor.
The director of the group said that a study as proposed by the Malaysian Nature Society is needed because the sighting reports can't be taken as proof, as there is no evidence of the creatures presence in the area.
About Craig Woolheater
Co-founder of Cryptomundo in 2005. I have appeared in or contributed to the following TV programs, documentaries and films: OLN's Mysterious Encounters: "Caddo Critter", Southern Fried Bigfoot, Travel Channel's Weird Travels: "Bigfoot", History Channel's MonsterQuest: "Swamp Stalker", The Wild Man of the Navidad, Destination America's Monsters and Mysteries in America: Texas Terror - Lake Worth Monster, Animal Planet's Finding Bigfoot: Return to Boggy Creek and Beast of the Bayou.