Posted by: Craig Woolheater on March 21st, 2006
Aussie cryptozoologist Mike Williams, weighs in with a guest blog for Cryptomundo.
A mystery animal has been causing in Australia's hippie capital, Byron Bay, leaving locals to speculate they may have a thylacine in their midst.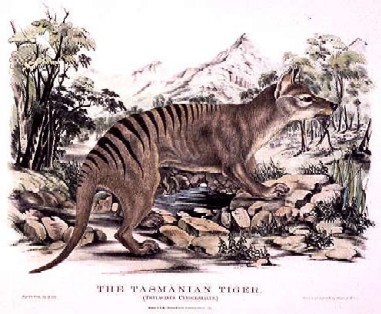 Builder Mick Stubbs and his wife Fabi first spotted the creature in early February at about 3 am as they drove along the old Pacific Highway, about 400m north of a place called Uncle Tom's Pies.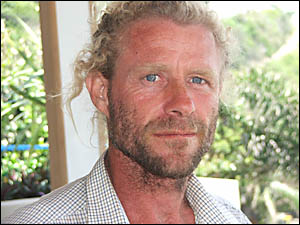 Mullumbimby builder, Mick Stubbs is "1000 percent convinced" the animal he saw near Uncle Tom's Pies wasn't a dog or a dingo
At first the couple thought the animal was a fox, but an exceptionally long tail had them thinking otherwise.
Stubbs described the beast as "not a dingo or a dog of any kind", and it had rounded ears and golden eyes, but none of the tell-tale stripes of the thylacine.
A sketch he later did, however, resembled that of a Tasmanian tiger.
Billinudgel Post Office owner Sue Stirton claims to have also seen the strange creature five years ago in the main street of her village, "I thought to myself, there are some sick people around, because it looked like a cross between a greyhound and a kangaroo".
The sighting has sparked a small storm of controversy in an area better known for its New Age lifestyle and illegal drug crops.
Raelene Mudge, of South Golden Beach, was driving along Shara Boulevarde about 11 pm a month ago when she saw a large animal on the road. Her first thought was, "My god, that feral cat is big."
Mullumbimby resident Barbara Eady reckons she saw a "creature from hell" about six months earlier along Brunswick Road, having just turned off the old Pacific Highway.
She told the Byron Shire News, "It had a strange-looking head – a very odd-looking animal." She added that the animal didn't have flat fur and had looked a bit beaten up.
Another Mullumbimby local, Annette Deckmann, saw a strange animal about five or six months ago, also on Brunswick Road, this time near McAuley's Lane, "I was straight away thinking of a Tasmanian tiger-greyhound mix. It had very short fur, but no stripes. The only animal I could think of was a Tasmanian tiger, but I was aware they are extinct. It was a dog-like creature, but not a dog. It was very strange."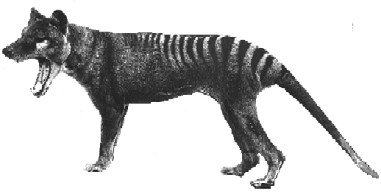 About Craig Woolheater
Co-founder of Cryptomundo in 2005. I have appeared in or contributed to the following TV programs, documentaries and films: OLN's Mysterious Encounters: "Caddo Critter", Southern Fried Bigfoot, Travel Channel's Weird Travels: "Bigfoot", History Channel's MonsterQuest: "Swamp Stalker", The Wild Man of the Navidad, Destination America's Monsters and Mysteries in America: Texas Terror - Lake Worth Monster, Animal Planet's Finding Bigfoot: Return to Boggy Creek and Beast of the Bayou.