Posted by: Craig Woolheater on June 11th, 2011
Suspected Bigfoot footprint photos that will be featured in this Sunday's episode of Finding Bigfoot on Animal Planet June 12, "Caught On Tape."
Muddy prints bring Bigfoot researchers to Gibsonville
Roselee Papandrea
Times-News
GIBSONVILLE — At first, Bernadette and Leonard Braley didn't pay much attention to the spots of mud on the road about 50 feet from their home on Quartz Court in Gibsonville last October.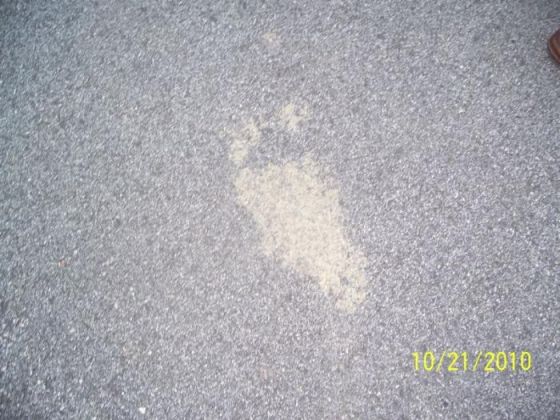 But then the Braleys began looking at the mud more closely and thought they looked a lot like footprints. Leonard grabbed the measuring tape and Bernadette a camera. They took photos of what they thought were 16-inch muddy footprints and then forgot about them for a few months.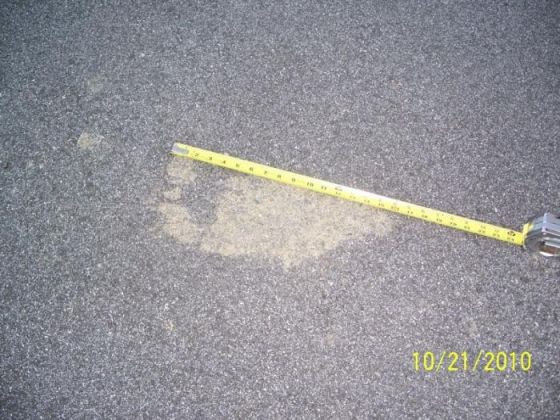 This past January, Bernadette began thinking about the photos again while she was going through shows on her digital video recorder. One was news footage of man who encountered Bigfoot trying to attack his dog.
It got Bernadette thinking. She did a quick Internet search and found Bigfoot Lunch Club, a group that follows Bigfoot sightings, and there is one in North Carolina. Bernadette emailed her muddy footprint photos to the club. In February, the Braleys were invited to Troy to talk with a group from the Animal Planet television network that was doing some filming for a six-part series called "Finding Bigfoot" that started airing this month.
The Braleys will be featured in an hour-long "Finding Bigfoot" episode about Sasquatch sightings in North Carolina. It airs at 10 p.m. Sunday on Animal Planet, which can be found at Channel 63 on Time-Warner Cable in Alamance County.
"When Animal Planet got there, they went crazy when they saw the pictures," Bernadette Braley said. "They wanted to come to our house and do filming for their series."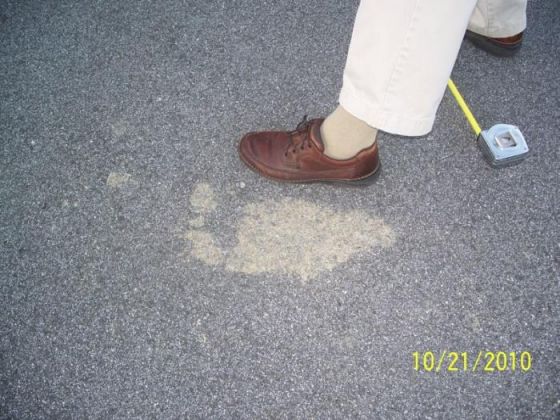 A four-person team from the Bigfoot Field Researchers Organization — BFRO — as well as a producer, cameraman and several others spent a day with the Braleys in March, asking questions, filming and trying to recreate the footprints.
"Their first question was do you live near power lines," Bernadette Braley said.
Power lines run on the opposite side of their house. The second question was about the deer population. The Braleys' property backs up to woods and there are a lot of deer. At the time the footprints were found, there was a lot of new construction going on in the cul-de-sac and plenty of mud in the area.
"They have concluded that Bigfoot sightings are around power lines because they like to run along the power lines and also deer. They like to eat deer or run with deer," Bernadette Braley said.
The footprints were about 12 feet apart.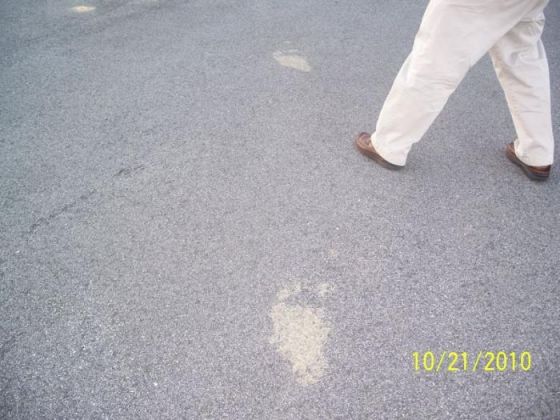 "They did some tests," she said. "They put mud on the bottom of their shoes. They had a fellow running in the area. He jumped."
The test subject was 6 feet tall and he left footprints that were about 6 feet apart.
"They estimated it was probably a lot taller and a lot heavier and running on the ball of its foot," Bernadette Braley said.
The four-person team of researchers includes Bobo, a commercial fisherman, Cliff, a professional educator, Matt, the president of BFRO and Ranae, a skeptical scientist. They all have varying experiences with Bigfoot and different beliefs about the existence of the creature, according to an Animal Planet release.
"What binds them together, however, is their longing to understand the creature, passion for proving its existence and willingness to stop at nothing to finally track down Bigfoot," the release states.
The Braleys enjoyed the experience with the Animal Planet group. Bernadette made the whole crowd chili. The researchers left behind a motion-sensitive night-vision camera that they set up in the woods.
The Braleys have a lot of photos of deer and rabbits and leaves falling, but they still haven't captured Bigfoot on film.
Leonard Braley was always a believer that Sasquatch existed. Bernadette said she was always skeptical. After doing a lot of Internet research, talking to people and interacting with the folks from Animal Planet, she's starting to be a believer herself.
"I'm leaning in the direction that there's got to be a Bigfoot out there," she said. "There is just too many sightings for it to be people's imagination or hoaxes."
The Braleys haven't actually seen Bigfoot and never reported anything to authorities last year. Bernadette suspects that whatever made the muddy footprints is long gone, but she holds out hope.
"I, personally, would like to see it," she said. "I would love to actually take a picture of it."
About Craig Woolheater
Co-founder of Cryptomundo in 2005. I have appeared in or contributed to the following TV programs, documentaries and films: OLN's Mysterious Encounters: "Caddo Critter", Southern Fried Bigfoot, Travel Channel's Weird Travels: "Bigfoot", History Channel's MonsterQuest: "Swamp Stalker", The Wild Man of the Navidad, Destination America's Monsters and Mysteries in America: Texas Terror - Lake Worth Monster, Animal Planet's Finding Bigfoot: Return to Boggy Creek and Beast of the Bayou.