Posted by: Craig Woolheater on July 21st, 2011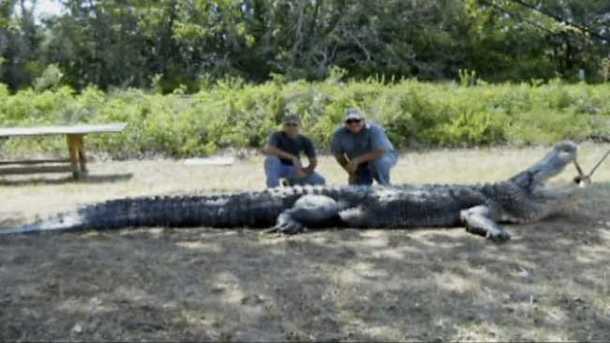 Photo from Levi McCathern II
Dallas attorney Levi McCathern II is likely not smiling so widely now.
McCathern, 42, a former Baptist minister whose website says he's represented Jerry Jones and the Dallas Cowboys in court, became something of a celebrity in his own right after claiming that he shot a 14-foot, 880-pound alligator on his first reptile hunt June 11.
Photos of him posing next to the beast along the Trinity River in Leon County were flashed on television, carried by newspapers and bounced around the Internet.
Turns out the alligator was actually 13 feet 1 inch and was no record as asserted.
Worse, arrest warrants were issued Wednesday for McCathern and his three guides for illegally hunting the big gator and an 8-footer on private property, Texas Parks and Wildlife Department officials said.
The four were expected to turn themselves in Wednesday at the Leon County Sheriff's Department in Centerville, about 145 miles southeast of Fort Worth, department spokesman Mike Cox said in a news release.
However, McCathern's attorney said that he was out of state on a scheduled family vacation and that the Leon County attorney has been informed. The attorney, George Milner III of Dallas, said his client will fight the charge, saying he understood that the guides had permission to be on the land to hunt.
"I can tell you he will be acquitted," Milner said.
Moreover, McCathern performed a public service, his lawyer asserted.
"As big as this alligator was, they should have given him a medal," Milner said.
One of the guides, Steve Barclay, insisted in a brief telephone interview that the landowner had given his OK.
"We did in fact have permission to kill alligators on that land," Barclay said.
Taking wildlife without a landowner's consent is a Class A misdemeanor punishable by a fine of up to $4,000, a one-year jail sentence or both. The department will also seek more than $5,000 in restitution for the two alligators, the release said.
Both gators have been seized by authorities.
Game wardens in Leon and Houston counties began the investigation when an unidentified property owner reported that a large alligator had been killed without his permission on his land on the Trinity River. A smaller gator was taken on his property the day before.
McCathern said in at least one interview that his 14-year-old son had killed an alligator the day before he did. Cox said that earlier shooting is still under investigation.
The lawyer's guides were identified by Parks and Wildlife as Barclay, 47; Sam Lovell, 56; and Ryan Burton, 21. Barclay and Lovell operate a Kennard-based hunting-guide service called the Gar Guys.
It's not clear whether McCathern will represent himself on the misdemeanor charge.
His website boasts that he "has enjoyed unusual success in the historically more liberal courts of the northern and eastern parts of Texas. … His strength is the same in and out of the courtroom — relating to all people, from janitors to CEOs, on their level."
It's not the first time that Barclay, Lovell and a client faced an alligator-hunting misdemeanor in Leon County.
In 2007, a charge over the shooting of a 13-foot gator was dismissed "for lack of evidence," Leon County Attorney Jim Witt told Texas Fish & Game magazine. Witt is still the county attorney and handles such misdemeanor case.
Source: Fort Worth Star-Telegram, Monster-gator killers face charges of illegal hunting
By Barry Shlachter
About Craig Woolheater
Co-founder of Cryptomundo in 2005. I have appeared in or contributed to the following TV programs, documentaries and films: OLN's Mysterious Encounters: "Caddo Critter", Southern Fried Bigfoot, Travel Channel's Weird Travels: "Bigfoot", History Channel's MonsterQuest: "Swamp Stalker", The Wild Man of the Navidad, Destination America's Monsters and Mysteries in America: Texas Terror - Lake Worth Monster, Animal Planet's Finding Bigfoot: Return to Boggy Creek and Beast of the Bayou.