Posted by: Craig Woolheater on May 15th, 2014
Clifford LaBrecque has been trying to unload his Bigfoot replica on eBay for a few years.

Clifford LaBrecque next to his $85,000 Bigfoot Replica
Of course, at $85,000, there have been no takers.
It's currently listed on eBay if you have $85,000 for a starting bid, it could be yours. Auction ends at May 19, 2014 10:13:14 PDT.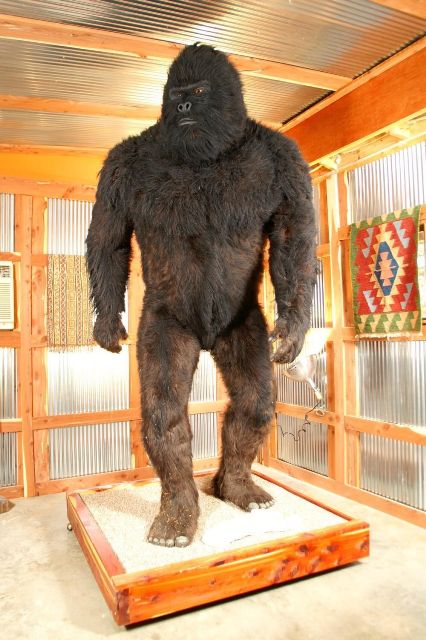 YOU ARE BIDDING ON A GREAT BUSINESS OPPORTUITY BY OWNING A M– USEUM QUALITY MODEL OF THE LEGENDARY "BIG FOOT" AN OUT STANDING PIECE OF QUALITY WORK HE WOULD MAKE A GREAT BUSINESS FOR A TOURING ATTRACTION AMONG MANY OTHER OPPORTUNITIES TRANSPORTATION WILL BE FROM NORTH CENTRAL ARKANSAS YOUR PICK UP POINT ANY QUESTION PLEASE CALL ME AT 1-870-291-1863 (CLIFFORD LABRECQUE) GOOD LUCK BIDDING.
See: No Takers on $80,000 Bigfoot, Price Goes Up to $85,000 for previous efforts to auction this on eBay.
Here is an article about Clifford LaBrecque from quite some time ago that tells of his Bigfoot encounter and the creation of the statue:
American researcher claims Bigfoot attacked him when he tried to shoot it.
He wants to prove once and for all that the mysterious Sasquatch definitely does exist.
Clifford LaBrecque, now 65 of Cameron, Missouri told the Examiner he had been watching the creature for about two and a half months on the outskirts of Des Moines, Iowa back in 1977.
The fearful attack took place about 11 pm.
That night LaBrecque decided to shoot the creature. "It was about 25 feet away from where I was parked in my pickup truck." LaBrecque said. "Two of the creatures walked up from behind a hedge. One stopped but the other went to a woodpile, bent down and started to eat with it back towards me. I stayed in the car and waited for it to turn around but it just kept on gnawing at the wood. Finally I decided to shoot it from behind. When the animals turned and saw me, I got buck fever and couldn't shoot. As it came towards me, I couldn't get the window rolled up fast enough. It was really close." LaBrecque was petrified with fear as the creature advanced. He tells what happened next.
"It loomed over the car. It was about 8 feet tall. It reached through the window, grabbed me and shook the daylights out of me. It was terribly strong. I could feel its face about 6 inches away from mine and believe me I was in a state of tremendous fear. I could feel my whole body shaking. I felt a sensation of being twisted around and pushed down onto the floor. The creature's eyes were burning with fury. I was angry, very angry at me for trying to shoot it. Then I pass out. When I regained consciousness it was gone.
LaBrecque who owned a truck brokerage firm in Cameron is also president of Bigfoot Research Inc. He's been researching Bigfoot reports for about 49 years. He describes the thing that attacked him as "terrifying and enormous." He said that after the attack his memory was vague because of his terror as the thing shook him around. He decided to visit a hypnotherapist who had bought a vehicle from him. Eric Elster of Knoxville, Iowa. Elster told the Examiner that he hypnotized LaBrecque so that he would go back to the time of the attack. LaBrecque designed and constructed a life size model of the creature on the basis of the details that came to him under hypnosis as well as what he consciously remembers.
The model is made of fiberglass and covered with artificial hair. He said it represented a typical young adult male. The model stands 7 ft 6 inches and if it were a real creature, would weigh 600 to 1,000 pounds. Its feet, of course, are what gives the creature its name, LaBrecque told the Examiner. They are 18 inches long and 9 inches wide and they leave a flat impression in the ground about 2 inches deep. LaBrecque said that Bigfoot's fur is dark brown in color and that it has a foul smell. On the model, the shoulders measure 4 feet across! The arms, which are 47 inches long, reach down to almost the creature's knees. Its biceps measure 27 inches around and the short massive neck has a circumference of 40 inches. LaBrecque says Bigfoot can make a wide variety of sounds. It has the ability to mimic other animals, he claims, Its typical voice is a low guttural growl, but at times it can sound like a hooting owl or even a barking dog. LaBrecque estimates that there may be as many as 5 thousand Bigfoot creatures in the United States and more in Canada. LaBrecque believes that no remains are ever found of dead Bigfoot because they bury or hide their dead. During LaBrecque's search for the elusive Bigfoot, he has investigated numerous reports of sightings.
"I searched 15 years before finally meeting Bigfoot face to face," he says. "The animal exists and it's thriving in great numbers and increasing all the time." LaBrecque thinks that the Bigfoot is a very intelligent animal and tries very hard to avoid contact with humans. It's almost as if the beast has some form of primitive telepathy or instinct that warns it when man is nearby. But despite the attack, LaBrecque is still not afraid.
"I harvested what I sowed," he said. "It's like picking a fight and then getting the heck beaten out of you."
He offers some tips on where to look for Bigfoot. "The easiest place to look is around a small town or on the outskirts of a big city he says. There's plenty of foot for them there. If you think Bigfoot is in a certain area and there is only one water supply in that area, that is the best place to look.
Finding Bigfoot is difficult enough. LaBrecque told the Examiner. Catching them or getting close enough to take a picture is almost impossible. They run very fast and they mostly come out at night. LaBrecque remains determined to investigate Bigfoot sightings. "I just got a call the other day about a sighting," he said. "I'll be going up there next weekend to check it out.
LaBrecque feels that one day somebody will come up with positive proof that these creatures exist. Unless we can find the remains of one, the only way we will ever prove that Bigfoot exists is to shoot one. Then the world will have to believe that these creatures to exist. "Authorities won't accept anything like photos, casts of footprints and other evidence that has been presented so far.
About Craig Woolheater
Co-founder of Cryptomundo in 2005. I have appeared in or contributed to the following TV programs, documentaries and films: OLN's Mysterious Encounters: "Caddo Critter", Southern Fried Bigfoot, Travel Channel's Weird Travels: "Bigfoot", History Channel's MonsterQuest: "Swamp Stalker", The Wild Man of the Navidad, Destination America's Monsters and Mysteries in America: Texas Terror - Lake Worth Monster, Animal Planet's Finding Bigfoot: Return to Boggy Creek and Beast of the Bayou.