Posted by: Craig Woolheater on November 14th, 2006
With all the talk here on Cryptomundo lately of monkeys, I found this article very interesting.
Monkeys in Morehouse? Residents swear they've seen primates
MARK RAINWATER
Bastrop (LA) Daily Enterprise: 11 Nov. 2006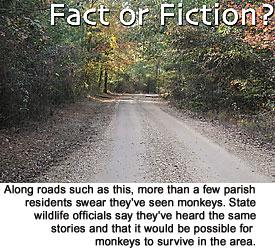 Alligators living in the sewers of New York City.
Remember "Mikey," the kid in the Life cereal television ads in the 1970s? He died when he drank a carbonated drink in the 1980s after eating Pop Rocks candy.
Urban legends. Great stories with little if any truth in their makeup.
There's what has become a rural legend in parts of Morehouse Parish.
There's a monkey in them thar woods.
Folks will swear they saw them. Wayne Warner saw one on Knox Ferry Road. Brett Smith saw one too, miles away from Warner's sighting, on Lum Day Road.
When you start talking about primates in the parish, people get kinda skeptical.
"If I tell you I saw a monkey," Warner says, "then I saw a monkey."
And most folks who know Warner agree.
"If Mr. Wayne says he saw a monkey, I believe him," says Mike Tubbs. "He's a real standup, honest man."
And Warner isn't the only one who claims to have seen a primate in these parts.
Dewanna Smith's husband Brett came home a couple of months ago and told her he'd seen one on Lum Day Road, off the Crossett Highway.
"I told him 'Brett, you've been working graveyard and it was dark,'" Dewanna says. "He says he swears it was a monkey. I was picking at him, but I believe him. And I sure believe Mr. Wayne."
A spokesman for the Louisiana Department of Wildlife and Fisheries in Monroe says though the he hadn't heard specifically about the Morehouse monkeys, he doesn't doubt the authenticity of the reports. He says people buy them as pets, realize they aren't meant to be domesticated and turn them into the wild. He also says (another legend perhaps?) that there are literally communities of monkeys is south Louisiana where boy monkeys met girl monkeys and made baby monkeys.
Justin Lee, an enforcement agent for the LDWF in Morehouse Parish, says he's heard the stories but has never seen either alleged monkey.
"It's almost like black panthers," Lee says. "You hear stories about black panthers in Louisiana. I know we have panthers, but I have never seen a black panther. And I've heard stories about the monkeys. I'm familiar with both of those areas (Lum Day Road and Knox Ferry Road), but I've never seen a monkey."
Warner said he heard stories during the summer of 2005 about people who thought they'd seen a monkey. His actual sighting came last fall, and it could have come two days after another sighting.
"About two days before I saw that one, I saw something cross the road in about the same spot that I thought must've been a dog," Warner says. "It was about 150 yards down the gravel part of Knox Ferry where I saw him. And I know what I saw that time. I saw a monkey."
After he started sharing his sighting with others in the area, Warner says people started relating their own stories. There was Paul Sander's son who said he got about five feet from the animal. Sanders' son said the primate had markings on its tail and face that led him to believe it was a lemur.
"Then there was another old boy who told me he thought he'd seen one but said he wasn't about to say anything about it because folks would have thought he was crazy or lying," Warner says.
Lee said primates are herbivores, who eat leaves and fruit. He said there is more than adequate vegetation in the area to support a monkey.
"They could survive or even thrive in this type environment," Lee said.
Thursday afternoon, a hunter was coming out of the woods along Mason Cave Road. The man, who asked not to be identified, said he'd heard Warner's story. And like others, he vouched for Warner's credibility. He then posed a question that bears repeating.
"Don't you think a boy monkey would get awfully lonely out here by himself?"
Who knows, there may be a community of monkeys in them thar woods.
About Craig Woolheater
Co-founder of Cryptomundo in 2005. I have appeared in or contributed to the following TV programs, documentaries and films: OLN's Mysterious Encounters: "Caddo Critter", Southern Fried Bigfoot, Travel Channel's Weird Travels: "Bigfoot", History Channel's MonsterQuest: "Swamp Stalker", The Wild Man of the Navidad, Destination America's Monsters and Mysteries in America: Texas Terror - Lake Worth Monster, Animal Planet's Finding Bigfoot: Return to Boggy Creek and Beast of the Bayou.