Posted by: Craig Woolheater on July 23rd, 2011
Loch Ness Monster? Or a stick…?
After a 45-year hunt, walker claims to have photographed elusive creature.
At first glance it looks like another dark ripple on the water.
But study the photograph more closely and a dark hump and tail can be seen poking through the water's surface, or so a life-long hunter of the Loch Ness monster hunter claims.
William Jobes, 62, believes that he may have at last captured the elusive creature on camera after 45 years of trying.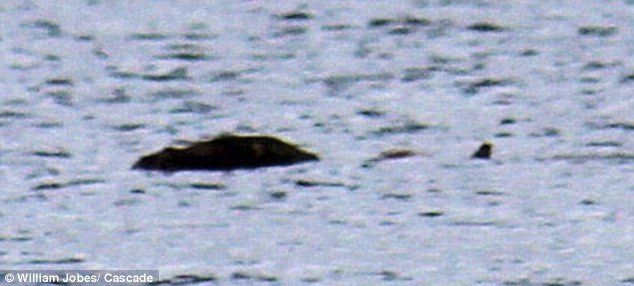 Is it you, Nessy? A possible hump and part of a tail, or perhaps a spike on the creature's back, can be seen breaking the surface of the water near Fort Augustus, Scotland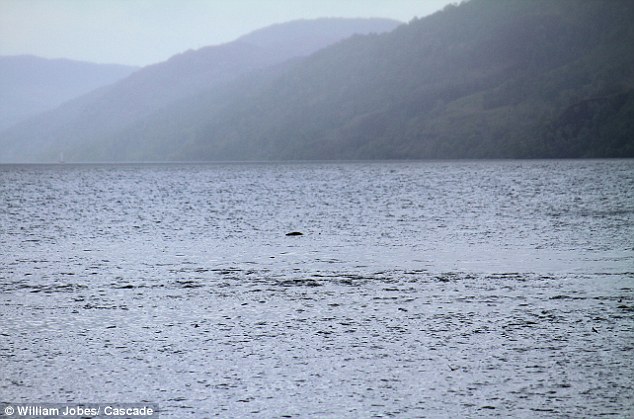 Misty morning: Loch Ness monster hunter William Jobes, 62, is certain that the black mark 200 – 300 yards from the shore is the body of the elusive creature
Mr Jobes was walking along the Abbey footpath in Fort Augustus with his wife Joan in May this year when he spotted what appeared to be a head bobbing above the water 200 to 300 yards from the shore.
'I had a wonderful shock,' Mr Jobes said.'I have actually been coming up to Inverness for the past 45 years and I have never seen anything like this before.'
Quickly grasping his camera, Mr Jobes from Irvine in Ayrshire, managed to take a single picture before the 'head' disappeared under the surface.
However, to his delight a dark, hump-like shape broke the waves and he was able to take more photographs of the apparent sighting on May 24 at just after 11.10am.
Mr Jobes is convinced it was not a seal or piece of wood.
'To be honest I know the difference between a piece of wood or a particular animal,' he said.
'I immediately did think it was a seal but it's head was like a sheep.'
Amateur photographer: Mr Jobes says the beast went under the water then came back to the surface
However, veteran Nessie hunter Steve Feltham, remains sceptical, although he admits the hump photograph cannot be immediately explained and is worth further investigation.
'The river comes out there and something large could have come down the river and flowed out there,' he suggested.
Mr Jobes' is the second potential sighting of nessie so far this summer.
Last month Foyers shop and cafe owner Jan Hargreaves and her husband Simon believe they caught a glimpse of the creature.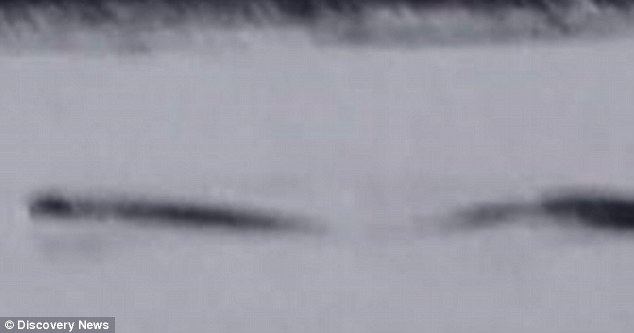 Startling discovery: The monster captured on video in 2009 in Alaska appeared to be up to 30ft with humps on its back
…a large creature, 20 to 30ft long with humps on its back, was filmed moving through the waters of an Alaskan bay.
The unidentified creature which was filmed by local fisherman in 2009 has already drawn comparisons to Scotland's infamous Loch Ness Monster.
Scientists believe that the Alaskan creature could be a Cadborosaurus – a type of sea serpent that got its name from Cadboro Bay in British Columbia and is said to roam the North Pacific.
Paul LeBlond, former head of the Department of Earth and Ocean Sciences at the University of British Columbia, told Discovery News: 'I am quite impressed with the video.
'Although it was shot under rainy circumstances in a bouncy ship, it's very genuine.'
The Cadborosaurus willsi, meaning 'reptile' or 'lizard' from Cadboro Bay, is an alleged sea serpent from the North Pacific thought to have a long neck, a horse-like head, large eyes, and back bumps that stick out of the water.
In 1937, a supposed body of the animal was found in the stomach of a whale captured by the Naden Harbour whaling station in the Queen Charlotte Islands, a British Columbia archipelago.
Samples of the animal were brought to the Provincial Museum in Victoria, where curator Francis Kermode concluded they belonged to a fetal baleen whale.
The animal's remains, however, later disappeared.
James Wakelun, a worker at the whaling station, last year said that he saw the creature's body and 'it wasn't an unborn whale.'
Like other cryptids, animals whose existence is suggested but not yet recognised by scientific consensus, the Cadborosaurus has existed only in grainy photographs and eyewitness accounts.
Source: The Daily Mail, Loch Ness Monster? Or a stick…?
About Craig Woolheater
Co-founder of Cryptomundo in 2005. I have appeared in or contributed to the following TV programs, documentaries and films: OLN's Mysterious Encounters: "Caddo Critter", Southern Fried Bigfoot, Travel Channel's Weird Travels: "Bigfoot", History Channel's MonsterQuest: "Swamp Stalker", The Wild Man of the Navidad, Destination America's Monsters and Mysteries in America: Texas Terror - Lake Worth Monster, Animal Planet's Finding Bigfoot: Return to Boggy Creek and Beast of the Bayou.