Posted by: Craig Woolheater on December 21st, 2005
Marauding monkeys, llamas on the lam…
Brandon Reynolds, a reporter for the Style Weekly out of Richmond, VA, went in search of animals reported in places that they didn't belong in Virginia. One of the
stories he relates
might even be Bigfoot related.
So when word got around the newsroom that monkeys had been sighted in Ashland and mountain goats had been spotted along the highway, all eyes turned to me. I chose to take it as a vote of confidence in uncovering a piece of the Great Unknown rather than a wild monkey chase.
Which, of course, it turned out to be. Once I tracked the source of the Ashland monkey tale to a friend of a friend of a friend, it turned out he'd seen two monkeys in an Ashland wood on a hunting trip 10 years ago. I saw my Pulitzer disappear up a tree and throw its own poop at me. I was left with a search for mountain goats, more likely to be found in Richmond, British Columbia, than Richmond, Va.
I asked Julia Dixon of the Department of Game and Inland Fisheries whether she had any goat news, and indeed she did. She'd heard reports that the goats were seen near the Powhite Parkway/Downtown Expressway interchange, and added that they were most likely pigmy goats, rather than the larger, cashmere-rich mountain goats.
"When you come face to face with a wild animal, they do look bigger," she said. Just like myths, I thought.
She mentioned the ongoing lack of Bigfoot in the wilds of Virginia and added, just in time for Christmas, the curious tale of one of "the strangest at-large animals" she'd heard of: the reindeer trotting down West Broad Street in Short Pump five years ago, escaped from a pen at Strange's Nursery and causing drivers to swerve, visions of sugarplums and airbags dancing in their heads.
These are the Great Unknowns, I thought, and on a whim, I asked if she'd heard about any monkey business. Oh yes.
Now when an employee of the state tells stories about three monkeys allegedly throwing bananas at cars on I-95 near the Sussex exit a few years back, you can practically hear the golden eggs cracking over the skillet. She said the biologists were sent out, but no primates were ever found. "No confirmed banana peels," she added.
Photo of track found by DBDonlon mentioned in comments (click on image for full-size photo)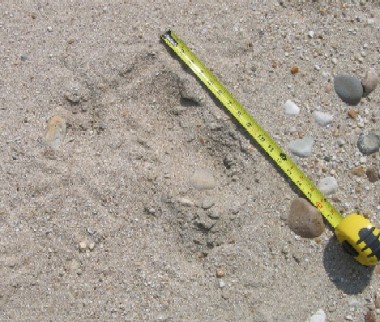 The picture was taken near the James river on the bank of an abandoned pond. The pond, now surrounded by woods, is fed by a creek and in turn feeds a marsh that leads to the river, not very far away. The entire area here is not large, but it is bounded by industrial farms year round.
Interesting thing about the possible footprint — it was alone, but it was very near a distinct drag mark. There were two drag marks going from the brush to the pond, as if someone went to and from the woods to the water and dragged soemthing afterwards to get rid of the tracks! It was interesting, to say the least…
dbdonlon
About Craig Woolheater
Co-founder of Cryptomundo in 2005. I have appeared in or contributed to the following TV programs, documentaries and films: OLN's Mysterious Encounters: "Caddo Critter", Southern Fried Bigfoot, Travel Channel's Weird Travels: "Bigfoot", History Channel's MonsterQuest: "Swamp Stalker", The Wild Man of the Navidad, Destination America's Monsters and Mysteries in America: Texas Terror - Lake Worth Monster, Animal Planet's Finding Bigfoot: Return to Boggy Creek and Beast of the Bayou.