Posted by: Craig Woolheater on June 18th, 2016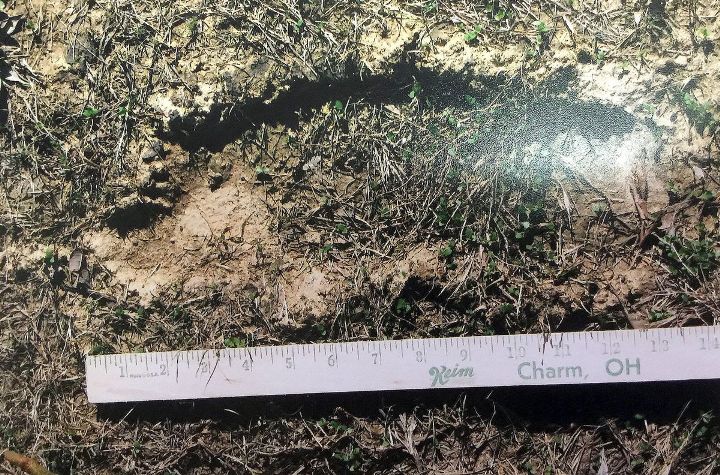 An alleged Bigfoot track photographed by Dr. Emmett Reary in Dent County.
Bigfoot in Bunker? The search is on
Throughout the forests, crags and caves of the Ozarks a legend has been whispered among those brave enough to reside in Missouri's vast southern expanse. For centuries, it's been said something strange lives in the wilderness, something which our modern world struggles to explain. Today, that legend is spreading beyond the traditional confines of the bonfire, and local residents are speaking out that Bigfoot may call our countryside home.
"I know Bigfoot is out in the woods because I've seen him with my own eyes," says local resident David Prater of Salem. "You likely won't see one unless you're on horseback, and you're willing to ride all day through forest, but you'll find them if you're patient enough."
Prater is one of Dent County's most senior Bigfoot trackers. He cut his teeth hunting the creature on horseback in the 1970s in the area around his native Round Spring. Prater says growing up in Shannon County, the mysterious beast was called "The Blue Man of the Mountains."
The closest Prater says he ever came to the Blue Man was in the vicinity of Big Creek southwest of Bunker.
"Back in the '70s I used to track Bigfoot on horseback," Prater says. "One day I came across one along the creek bank. It was squeezing a hedge apple in its hand and letting the juice run down its face. They're that strong. I gave chase, but it ran into a large nearby sinkhole where I think a couple more were hiding. My horse was too scared and there was a strong foul odor emitting from the hole, so I didn't go in to see for myself."
Prater says he can affirm that in the sunlight a bluish hue appears as a halo around its short, dark curly hair. He also says that in his experience, the Shannon County Bigfoot tends to shadow the movements of the wild horses in the area.
"I think they use the horses as sounders, so if something startles the horses they will know there's trouble and take off into the woods, too," Prater says.
Read the rest of the article here.
About Craig Woolheater
Co-founder of Cryptomundo in 2005. I have appeared in or contributed to the following TV programs, documentaries and films: OLN's Mysterious Encounters: "Caddo Critter", Southern Fried Bigfoot, Travel Channel's Weird Travels: "Bigfoot", History Channel's MonsterQuest: "Swamp Stalker", The Wild Man of the Navidad, Destination America's Monsters and Mysteries in America: Texas Terror - Lake Worth Monster, Animal Planet's Finding Bigfoot: Return to Boggy Creek and Beast of the Bayou.