Posted by: Craig Woolheater on June 2nd, 2015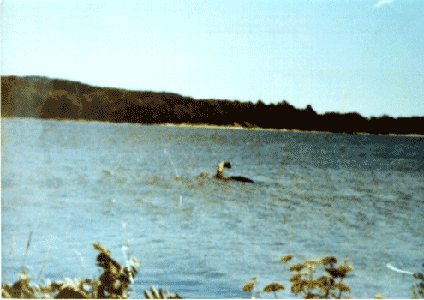 The Tennessee Valley Authority could use a monster, or the inkling of a monster, right now in Boone Lake, to bring out boaters, explorers, scientists and recreational types.
We could call him Booney. Oh, Booney? Yes, I saw Booney last weekend in the shallow channel of water that sits near the bottom of what is usually Boone Lake. With the atypical drawdown occurring this year while engineers inspect the lake's dam for possible damage, there needs to be some kind of buzz to get people out on the lake.
The drawdown isn't popular with residents around the lake, nor the businesses that thrive on a healthy, active and deep lake, so bringing up the idea, even a rumor, of a lake monster would do wonders.
I originate from Plattsburgh, New York, which sits directly next to Lake Champlain, allegedly housing the United States' most famed lake monster: Champy. Year after year, tourists and locals alike eat up anything related to Champ, which was said to have been seen by the French explorer and regional settler Samuel de Champlain in the 17th century. Just on the other side of Lake Champlain is Vermont, where Champy is plastered on everything from specials at local restaurants to the uniforms of the minor league baseball team the Vermont Lake Monsters, an Oakland Athletics affiliate squad.
Like de Champlain, Daniel Boone is a hearty and well useable name in the region, so Booney, like Champy, is extremely marketable. One downside, for those who thrive on science and details, is that Lake Champlain, unlike Boone Lake, has depths of more than 400 feet, is more than 120 miles long, is not manmade and has a strong connection to the Atlantic ocean through the St. Lawrence River, which could, conceivably, have brought in something resembling a 30-foot, surviving plesiosaur creature. But the facts don't exactly matter in cases of monster hunting, which has drawn on scientists from across the globe and many television stations including the Discovery Channel, to try to prove the creature's existence. It's all in good fun and effective marketing.
Having been spotted more than 300 times, Champy is well established in Lake Champlain area. My parents, though they wouldn't guarantee they saw the elusive lake monster, claim to have seen something resembling Champy in Lake Champlain in the mid-1980s.
This, of course, blew my mind growing up and sparked my interest in the topic. My parents might have seen Champy. On a side note, this isn't the only time my mother possibly had an encounter with something from the deep waters. Having grown up around coastal Massachusetts, she remembers a siren-like buzz taking place one night in Glouchester, because a massive creature of unknown origin having washed up on the beach, bringing out all the locals from the comforts of their beds. My mother said it was most likely a not-so-common whale, but was a situation that stuck in her mind.
Looking into one of my favorite childhood topics, I found out more of Champy's history. In my opinion, Sandra Mansi's 1977 photo of Champy is one of the better photos I've seen of any lake or sea monster across the globe. The issue is, that the bay in which the photo was taken, was only 14 feet deep. Possible explanations for the photo include a common occurrence with sunken logs, where built-up gas will rocket the wood upward and out of the water.
As for Champy, there's another possible explanation — again not to poke holes in the arguments of lake and sea monster believers — but I grew up hearing a story of another lady on the shores of Lake Champlain, who was watching her dog swim in the water. All of a sudden, she saw what she believed to be the lake's famous monster, heading for her dog.
After grabbing the family rifle, this woman shot at the monster.
Having saved the day and her dog, the woman woke up to find a bullet-filled lake sturgeon that was more than six feet in length.
With scientists not having found much of the way of concrete evidence and the best support for the idea of Champy being not-so-trustworthy eye witness testimony in a lake where barges, ferries and speedboats are the cause of many rogue waves, I'm not willing to participate in the belief that Champy is down there. I will, on the other hand, participate in the fun, and have never not gotten a shiver and drew my toes closer to my body in fear every time I swam in Lake Champlain.
The business and residential property owners around Boone Lake, as well as TVA could learn something in marketing from those around Lake Champlain.
About Craig Woolheater
Co-founder of Cryptomundo in 2005. I have appeared in or contributed to the following TV programs, documentaries and films: OLN's Mysterious Encounters: "Caddo Critter", Southern Fried Bigfoot, Travel Channel's Weird Travels: "Bigfoot", History Channel's MonsterQuest: "Swamp Stalker", The Wild Man of the Navidad, Destination America's Monsters and Mysteries in America: Texas Terror - Lake Worth Monster, Animal Planet's Finding Bigfoot: Return to Boggy Creek and Beast of the Bayou.