Posted by: Craig Woolheater on May 10th, 2017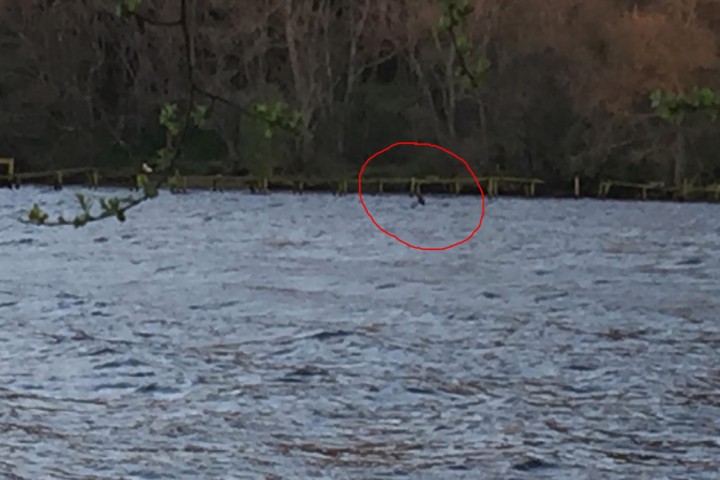 A Loch Ness Monster sighting from May 1, 2017
Northpix
This is the moment the fabled Loch Ness Monster was "officially" spotted for the first time this year — bringing more than eight months of uncertainty to an end.
Nessie's official recorder admitted he had been "worried" after a dry spell of sightings meant not one person had claimed to have seen the beast since August last year.
Enthusiasts were so concerned about Nessie that Gary Campbell, the official recorder, revealed he had fielded calls from as far afield as Moscow and California.
But tourist Hayley Johnson on Monday saw a strange, dark shape at dusk in the loch's Urquhart Bay — said to be a favorite haunt of Nessie.
The 28-year-old, a care assistant from Manchester, England, said: "I couldn't believe my eyes."
"I am a really skeptical person. I have never even been to Loch Ness before."
Said Campbell: "I am relieved and delighted with this sighting — and so will the planet!"
"Last year was a record year for the 21st century with eight sightings and then she seemed to have disappeared."
"Nessie is seen in the winter but she's much more common in the summer — this is why it was unusual that nothing was seen."
"The reason for the summer sightings is twofold — there are more people around in the summer, but more importantly, there are much longer daylight hours and the weather tends to be better."
He said 2016 was a "fantastic" year for Nessie sightings — which he put down to the growth of smartphones and webcams.
He added two of the sightings were by webcam, including one from an online watcher in the US.
Campbell said: "It means that there are more people than ever before are looking for Nessie — which would explain the rise in last year's sightings."
"In fact, you have to go back to 2000, when there were 11 sightings, for more appearances of Nessie."
The last previous sighting was on Aug. 21 when Ian Campbell, a government worker from the UK, was cycling along the west side of the loch near Drumnadrochit with his son and a family friend when he saw two creatures in the loch about 33 feet in length just out from the shore.
About Craig Woolheater
Co-founder of Cryptomundo in 2005. I have appeared in or contributed to the following TV programs, documentaries and films: OLN's Mysterious Encounters: "Caddo Critter", Southern Fried Bigfoot, Travel Channel's Weird Travels: "Bigfoot", History Channel's MonsterQuest: "Swamp Stalker", The Wild Man of the Navidad, Destination America's Monsters and Mysteries in America: Texas Terror - Lake Worth Monster, Animal Planet's Finding Bigfoot: Return to Boggy Creek and Beast of the Bayou.