Posted by: Craig Woolheater on February 12th, 2014
The International UFO Congress didn't want anything to do with Rick Dyer and Hank, but they do have Kewaunee Lapseritis speaking…
From this post earlier today…
CBS 5 News has learned that Clacy could not find a single venue that would pay him for the show, nor could he find a venue that would allow him to set up if fees were waived. Even the International UFO Congress, which kicks off its five-day conference in Scottsdale, turned Dyer and Clacy's exhibit away.
"He's a known hoaxer," said conference organizer Maureen Elsberry. "We are a reputable conference and we did not want to be associated with that."
Dyer and Clacy insist the body they have is not a hoax.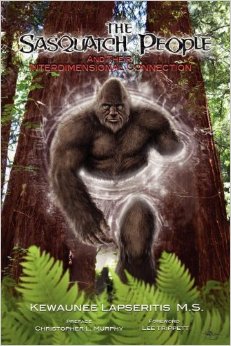 The Psychic Sasquatch and Their Interdimensional Connection is the product of 55 years of accumulated knowledge based on ongoing encounters with the psychic Sasquatch as experienced by author/researcher Kewaunee Lapseritis, BA, MS, MH, a recognized world authority. The 187 documented cases have clearly objectified the reality of psi within this phenomenon.
From the International UFO Congress:
About: Kewaunee Lapseritis, AS, BA, MS, is a Holistic Health Consultant, Master Herbalist and Master Dowser with background in anthropology, psychology, conservation, and holistic health. His academic degrees are from: Greenfield Community College, Greenfield, Massachusetts; University of New Hampshire—Durham; North Adams State College, in North Adams, Massachusetts, and University of Wisconsin—Milwaukee. He also attended Williams College in Williamstown, Massachusetts. Kewaunee taught anthropology for one year at North Adams State College and later taught dowsing and psychic development at the Wisconsin Society for Psychic Reasearch—Milwaukee. As a world authority on the Bigfoot/Sasquatch phenomenon, he has meticulously researched the subject for the last 55 years. Mr. Lapseritis is also a social scientist and both a Sasquatch and ET "contactee."
As a world traveler, an amateur naturalist, and avid backpacker with wilderness skills, Mr. Lapseritis spent five years out of the country living in England, East Africa, and Japan, later immigrating to Australia, and has visited over 40 countries around the globe. He was in the Himalayas in 1968 investigating the Yeti, or "abominable snowman." In 1973, he conducted an ethnographic study in conjunction with the Colombian Institute of Anthropology in Bogota, living amongst the Tukuna Indians of Upper Amazonia.
In 1979, scientist Kewaunee Lapseritis was first telepathically contacted by a Sasquatch and an ET simultaneously, which was the shock of his life! To further complicate matters, the contact changed him and he developed psychic ability overnight, which triggered a spiritual transformation. At the time, he was assistant director of an urban Indian agency, and had been working as a hypnotherapist part-time, as well as lecturing at the Medical College of Wisconsin—a background that left him ill-prepared for such a happening.
Kewaunee has been a guest on over 350 radio and television talk shows. To date, he has been featured in 23 books and is often featured in the international press, including various newspapers. Some of the publications are: Australia's People and Post magazines, OMNI magazine, Magical Blend, Cryptozoology (journal), Wildfire, Fate, Argosy, UFO magazine, Health Consciousness, and many others. In 1991, he was on a panel of scientists on a two-hour Bigfoot documentary on national television. Plus, he has appeared on The Discovery Channel twice. He has lectured and presented papers throughout the United States 70 different times.
There are people all over the globe encountering Bigfoot and UFOs simultaneously while the beings share information about themselves, human history, and the future of our planet. If anyone wishes to share in confidence their telepathic conversation(s) and experiences with the Sasquatch people, please feel free to contact this author and he will answer all correspondence personally.
Web: Sasquatchpeople.com
Talk Synopsis:
Interdimensionalism: The Secret to the Bigfoot/UFO Connection
Kewaunee will be speaking about his indepth encounters and how both ETs and the Sasquatch people have helped him numerous times with health issues, connecting with other contactees, and even saved his life more than once. Also, he will discuss what thes sentient beings are telling people about themselves and the planet. Plus, why monster hunters are never successful in catching a Sasquatch or obtaining an undisputed photograph of one. The focus will also be on "portals" that are used by both ETs and the hairy-folks.
Date: Thursday, February 13th
Time: 9:00 – 10:15 AM
About Craig Woolheater
Co-founder of Cryptomundo in 2005. I have appeared in or contributed to the following TV programs, documentaries and films: OLN's Mysterious Encounters: "Caddo Critter", Southern Fried Bigfoot, Travel Channel's Weird Travels: "Bigfoot", History Channel's MonsterQuest: "Swamp Stalker", The Wild Man of the Navidad, Destination America's Monsters and Mysteries in America: Texas Terror - Lake Worth Monster, Animal Planet's Finding Bigfoot: Return to Boggy Creek and Beast of the Bayou.