Posted by: Nick Redfern on August 1st, 2013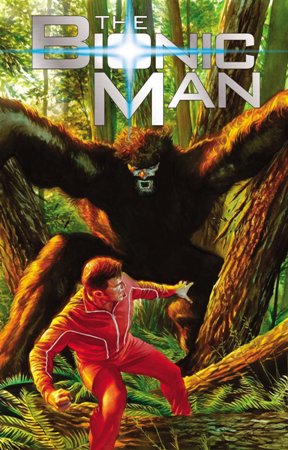 If, like me, you watched The Six Million Dollar Man as a kid, then you'll almost certainly remember when none other than Bigfoot put in an appearance. Well, you may be interested to know that, in October, a novel-version of the story will be available.
Written by Phil Hester, the book is summarized as follows:
"Steve Austin, the unstoppable hero of The Six Million Dollar Man, tracks a deadly conspiracy to foreign territory, where he discovers his strangest adversary yet – the legendary Bigfoot! What is this unnatural creature of primal instincts and mechanical parts? What role does the Bionic Man play in the monster's origin? If one such Bigfoot exists, could others still roam the wilderness… or be manufactured on an assembly line? Also, Steve Austin has a tearful reunion with Jaime Sommers. How will he react when he discovers a terrible truth – that he may have unwittingly been responsible for the tragic accident that transformed her into the Bionic Woman, and erased her memories?"
You can already pre-order the book, at this link…

About Nick Redfern
Punk music fan, Tennents Super and Carlsberg Special Brew beer fan, horror film fan, chocolate fan, like to wear black clothes, like to stay up late. Work as a writer.