Posted by: Nick Redfern on September 9th, 2013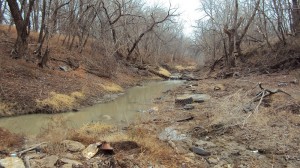 Good mate and fellow creature-seeker, Larry Parks, sent me the following article, which updates his very much ongoing research into the Bigfoot of Chambers Creek, Texas. Enjoy! Over to Larry…
Coming up next year is the 50th anniversary of a well-known sighting that coined the name above. A man by the name of Kenneth W. had a terrifying encounter while fishing back in 1964 near Ennis, TX. It involved the sighting of a huge, hair-covered beast somewhere between eight and ten feet tall. You can find the full details right here.
Now, many that are familiar with this N. Texas report may think the incident really stood alone and there was not much else to go with it or support it, unlike the popular reports coming from Lake Worth a few years later – in 1969 – that included many witnesses and events.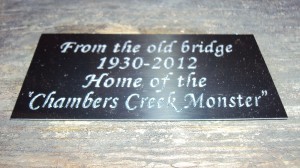 It's turning out not so. I began digging deeper into the local reports near his home in Ellis County. I tracked down the son of the original witness and was able to exchange some additional reports both had picked up, including the news that Brad W. shared with me about his father's serious illness over the last year or so.
Well, unfortunately it turns out that his father, Kenneth, passed away this past month, in August 2013, and my plans to meet the original witness face-to-face, and record his report firsthand on audio, was lost. But, as we mourn the loss of a man who shared his frightening encounter, all is not lost! Just in the past weeks, not only has one new report surfaced from Ennis in about 1969 of a very large hair covered creature, but two reports!
The first was seen – along a wood-line of a small tributary creek that connects to Chambers – by a group of young men that were out and heard some kind of animal sound. Looking up, they saw an 8-9 ft. tall hair-covered creature drop down on all-fours and charge towards them with a strange gait. They fled and recalled that what they saw wasn't a bear; it had really long hair and it was very big.
Described as ugly, and knowing there were no bears anywhere around there, they never really knew what they saw but it sure fits the description of classic gorilla-like Bigfoot bluff-charge, as does the ability to go from bipedal to quadrupedal at a fast pace.
The second was at Chambers Creek's low-water crossing at Ensign Road, back around 1964-65, when several people were camping and fishing at the creek. While cooking up some fish they had caught, they heard sounds of something large approaching them, on two feet, through the brush. As it got closer, they heard some kind of growling, and a very strong, bad odor came with it. Then they saw a very big hair covered creature appear, which made them feel very unwanted, and they fled for their lives.
More details are yet to come, as more interviews are to be conducted, but that's the short of it for now. Many consider reports like this as just stories and not as statistical, anecdotal evidence that keeps the researcher digging for more. But, in this case, the names of those involved in these two reports are unrelated and only corroborate one another. It strengthens both tales, since they occurred at the same area and same time frame. It really brings life to the creature!
Much more on these local accounts will hopefully be shared in a future publication, and additional information on Chambers Creek-related monster stories will be presented next month, at the 2nd annual Oklahoma Bigfoot Symposium, on October 5-6th 2013 in Stilwell, Oklahoma.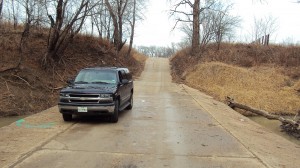 About Nick Redfern
Punk music fan, Tennents Super and Carlsberg Special Brew beer fan, horror film fan, chocolate fan, like to wear black clothes, like to stay up late. Work as a writer.