Posted by: Nick Redfern on October 4th, 2012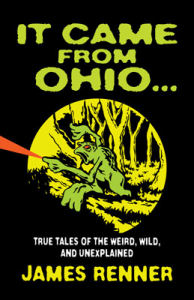 It Came From Ohio is a new book from James Renner that I haven't seen yet, but for Mothman devotees, it's one you'll want to add to your collection.
As we're told by the publisher:
Turn on a night light, lock your door, and close the window blinds! Join investigative reporter James Renner as he looks into 13 tales of mysterious, creepy, and unexplained events in the Buckeye State, including:
• The giant, spark-emitting Loveland Frog
• The bloodthirsty Melon Heads of Kirtland
• The lumber-wielding Werewolf of Defiance
• The Mothman of the Ohio River
• The UFO that inspired "Close Encounters of the Third Kind"
• and more!

About Nick Redfern
Punk music fan, Tennents Super and Carlsberg Special Brew beer fan, horror film fan, chocolate fan, like to wear black clothes, like to stay up late. Work as a writer.