Posted by: Nick Redfern on June 7th, 2012
Here's an upcoming event that you may want to attend, as it's the brainchild of a well-known figure who has contributed a fine body of research to the field of Cryptozoology: Chester Moore.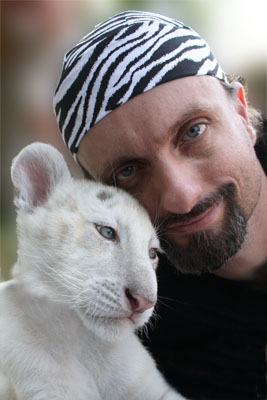 Extreme Wildlife Day coming to Bass Pro Shops Pearland, TX
Are there cougars in the Houston area and in the Pineywoods of East Texas?
What about the mysterious "black panthers" so frequently reported to wildlife officials?
These questions and others will be addressed at Extreme Wildlife Day a free event to be held at Bass Pro Shops in Pearland 10 a.m.-3 p.m. Sat June 30.
"I'm a wildlife extremist which means my interest leans toward creatures that are dangerous, large and mysterious. My partner Terri Werner and I are putting together a special event to celebrate our new Web radio program, 'Extreme Wildlife Radio' and to celebrate the most exciting representatives of the animal kingdom," said award-winning author/lecturer Chester Moore.
The event will feature seminars on the aforementioned mystery cats as well as a special one on a legendary nature film.
"The Legend of Boggy Creek scared moviegoers 40 years ago and to celebrate this quasi-documentary's anniversary, we have Jerry Hestand of the Texas Bigfoot Research Conservancy coming to talk about the facts behind the film," Moore said.
The event will also feature real life wild creatures from TWRC Wildlife Center and Pets-A-Plenty: Ultimate Reptile Shop along with other educational displays.
"This is an event for the whole family and whether you are someone who wants more information about a cougar encounter or you are a kid who wants to see a snake or another animal up close, this is the event for you," Werner said.
Known for starring in Animal Planet's "Growing up Tiger", Werner is facility director for Tiger Creek Wildlife Refuge and is excited about reaching out to others with an interest in wildlife.
"We're so excited about this new Web radio show which airs at www.extremewildliferadio.com beginning June 30 that we wanted to kick it off in a special way. Every kid who comes by our booth will get a big cat photo print and we will put everyone who comes in and signs up for our mailing list in a special drawing for a wild cat research trip with Chester and I and an exclusive behind the scenes tour of Tiger Creek. But you must be present to win," she said.
Moore said sharks, snakes and big cats reach across demographic lines and are a big draw for youth.
"It is super hard to get a kid in a deer blind these days but you can definitely get them interested in these extreme animals. I have taught classes on this subject during college summer youth outreach and at my church and I know the impact it makes. Extreme Wildlife Day and Extreme Wildlife Radio is for kids and kids at heart," Moore said.
"You see I am still very much the little boy that looked at the Gulf of Mexico off the 61st St. Pier in Galveston and was blown away at the possibilities of what might be out there," he continued.
"To this day I ponder the same thing every time I drive by a set of woods or fish in the Gulf. If growing up means losing that level of enthusiasm and curiosity then I plan on staying a kid forever."
For more information on Extreme Wildlife Day go to www.extremewildlife.com.
Media Inquiries
Chester Moore
"Moore Outdoors"
cmooreoutdoors@yahoo.com
409-920-2062

About Nick Redfern
Punk music fan, Tennents Super and Carlsberg Special Brew beer fan, horror film fan, chocolate fan, like to wear black clothes, like to stay up late. Work as a writer.