Posted by: Sharon Lee on July 1st, 2012
James Fay is not one to let fame and popularity go to his head. Just a few days into his vacation, he followed through on his promise to join me on my radio show to say hello and thank you to his fans and supporters and friends.
Join us this Sunday, July 1, 2012 at 8 p.m. EST (you'll have to figure out your time zone from that) on Blogtalk Radio.
Log in with your Blogtalk account and join the chat. We will also be taking phone calls.
Let me know if there is anything you'd like for me to ask Bobo and I'll get it in before the chat questions.
Email me at: sharonlee@thebigfootfieldreporter.com
Two lucky listeners will win their choice of either a Gone Squatchin with Bobo trucker cap or coffee mug!
The Bigfoot Field Reporter and Special Guest Bobo Fay | Blog Talk Radio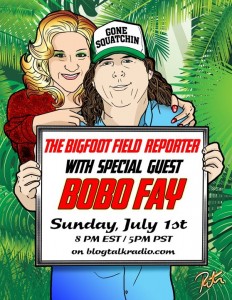 About Sharon Lee
The Bigfoot Field Reporter's Mission is To promote and share research, information and events regarding the existence of the unlisted humanoid species known as Sasquatch or Bigfoot;and to help further education and understanding to the public regarding the species, throughout the United States of America.