Posted by: Nick Redfern on September 15th, 2012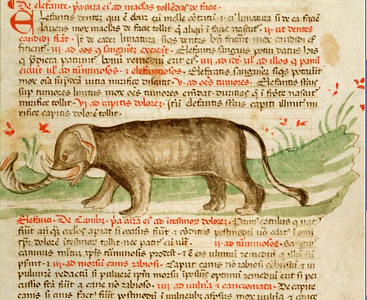 This just in from Dr. Karl Shuker:
"In his book The Vermilion Bird (1967), concerning life in T'ang Dynasty China (618-907 AD), Edward H. Schafer referred to a highly distinctive type of elephant:
"'One T'ang source [namely, Ch'ing I Lu, by T'ao Ku] tells of a race of black elephants with small pink tusks in Hsun and Lei [corresponding to the Leizhou Peninsula and southeastern Guangxi Province]. Perhaps this describes the true Chinese race itself, whose furious representatives had been subdued by the agents of the kings of Shang [the Chinese dynasty spanning c.16th-11th Century BC]…The naturally pink ivory of the local elephants was well favoured, indeed as equal to the ivory imported from overseas.'
"Yet as such creatures certainly do not exist today, one might be forgiven for assuming that they owe more to local legend than zoological reality – which is why it came as such a surprise to discover that this elephantine enigma has actually been assigned its own official scientific name."
And here's Karl's full post on this fascinating saga…

About Nick Redfern
Punk music fan, Tennents Super and Carlsberg Special Brew beer fan, horror film fan, chocolate fan, like to wear black clothes, like to stay up late. Work as a writer.