Posted by: Nick Redfern on May 5th, 2012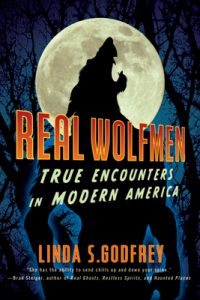 If you're interested in the phenomena of werewolves, Dogmen, and shape-shifters, then you're in for a treat tomorrow night. Linda Godfrey, author of such fine books as The Beast of Bray Road, Hunting the American Werewolf, and the forthcoming Real Wolfmen will be the special guest on Ken Gerhard's radio-show, Search for Hidden Beasts.
If you haven't yet checked out Ken's show, you really should, as he has had some good guests on, including: Scott Marlowe, Raven Meindel, Matt Bille, Bill Rebsamen, Michael Newton, Nick Sucik, Lee Hales, Scott Mardis, Ron Coffey, Andrew Gable and Anthony Zepeda.
To find out more about Ken's show and tomorrow night's interview with Linda, click right here.

About Nick Redfern
Punk music fan, Tennents Super and Carlsberg Special Brew beer fan, horror film fan, chocolate fan, like to wear black clothes, like to stay up late. Work as a writer.