Posted by: John Kirk on March 24th, 2014
A Florida woman claims to have had some encounters with an unknown hominid. She has released a photo as well. Is this merely a blobsquatch or is there something to the image here: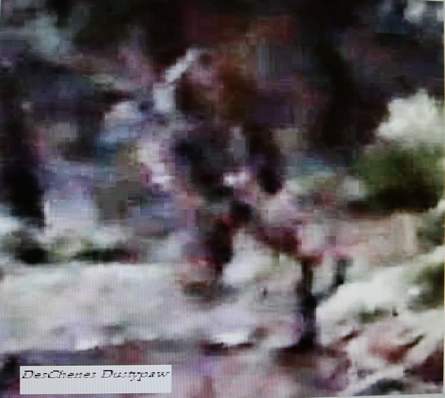 A copy of an image taken by Denise DeChenes that she perceives to be Bigfoot is shown.
Photo courtesy Denise DeChenes
Most people think Bigfoot is a hoax. But Denise DesChenes is convinced that she has seen the mythical creature — once in person, and other times when it was unknowingly captured in pictures and videos she took during walks in the Goethe State Forest.
DesChenes never believed in Bigfoot before. She said she really never had time to pay attention to what was around her when she used to ride horses in the woods.
But what she has witnessed over the last few years during her walks in the woods has changed her mind.
"I hear them walking with me and I know they're there," she said, deliberately using the plural. DesChenes said there is more than one creature out there.
DesChenes said she stopped riding her horses in the Goethe State Forest because her bad back made riding too painful. Instead, she started taking long walks with her dog in the forest and other preserves near Dunnellon.
"When I started walking, that's when I started noticing things," she said.
She started taking still pictures and video and remains convinced that, in the background, she has captured Bigfoot. She has even asked professional photographers their opinions on what the large footprints and dark figures lurking around bushes and trees could be.
"I just had to ask someone else," she said.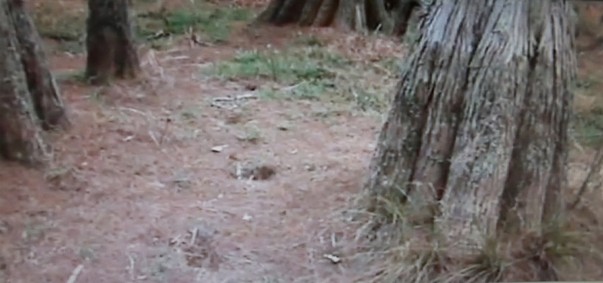 Courtesy Denise DesChenes
A copy of an image taken by Denise DesChenes that she perceives to be Bigfoot footprints.
DesChenes does not claim to have smelled anything or heard any screeches or howls. But she does have an unusual ritual that she believes helps draw Bigfoot to her during her walks in the woods.
She said that before entering the woods, she prays and waves and says "hi" before starting off.
She said that she has also left gift baskets in the woods containing items such as beef jerky and crackers, and sometimes loose tobacco. She thinks this might attract the Bigfoot creatures to her the next time she returns because the items she left on previous walks were always gone when she returned.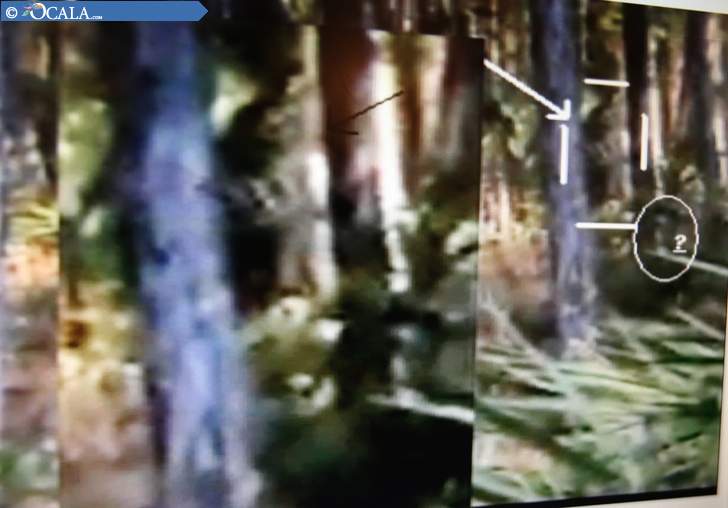 Photo courtesy Denise DesChenes
A copy of an image taken by Denise DesChenes.
A copy of an image taken by Denise DesChenes that she perceives to be Bigfoot is shown.
A spokeswoman for the Florida Forest Service declined comment when asked whether her agency investigates any such sightings.
Read the entire story and see all of the photos here: Woman claims Bigfoot is real, and is in the Goethe State Forest
#GoetheStateForestBigfoot

About John Kirk
One of the founders of the BCSCC, John Kirk has enjoyed a varied and exciting career path. Both a print and broadcast journalist, John Kirk has in recent years been at the forefront of much of the BCSCC's expeditions, investigations and publishing. John has been particularly interested in the phenomenon of unknown aquatic cryptids around the world and is the author of In the Domain of the Lake Monsters (Key Porter Books, 1998). In addition to his interest in freshwater cryptids, John has been keenly interested in investigating the possible existence of sasquatch and other bipedal hominids of the world, and in particular, the Yeren of China. John is also chairman of the Crypto Safari organization, which specializes in sending teams of investigators to remote parts of the world to search for animals as yet unidentified by science. John travelled with a Crypto Safari team to Cameroon and northern Republic of Congo to interview witnesses among the Baka pygmies and Bantu bushmen who have sighted a large unknown animal that bears more than a superficial resemblance to a dinosaur. Since 1996, John Kirk has been editor and publisher of the BCSCC Quarterly which is the flagship publication of the BCSCC. In demand at conferences, seminars, lectures and on television and radio programs, John has spoken all over North America and has appeared in programs on NBC, ABC, CBS, PBS, TLC, Discovery, CBC, CTV and the BBC. In his personal life John spends much time studying the histories of Scottish Clans and is himself the president of the Clan Kirk Society. John is also an avid soccer enthusiast and player.