Posted by: Nick Redfern on May 14th, 2012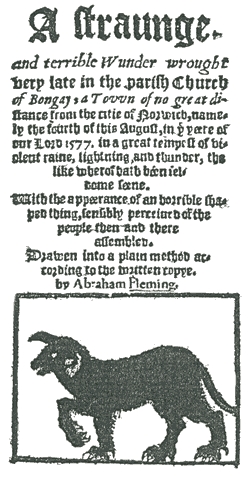 I recently wrote a post here at Cryptomundo on the fact that the new series of the BBC's Sherlock show – which brings Sir Arthur Conan Doyle's classic character, Sherlock Holmes, into the modern era – was set to include a revamped version of The Hound of the Baskervilles.
The phantom black hound of Britain has, of course, been a subject of deep interest to cryptozoologists and forteans for decades. Indeed, the classic book, Alien Animals, by Janet and Colin Bord, provides an excellent chapter on the history of this legendary and weird beast.
But what of the Baskerville story? Well, the episode aired here in Texas last night, and I have to say I thought it was an excellent and thoroughly entertaining show. I don't really have much time for people who want to bask in nostalgia and who moan and complain when change occurs. It's called moving ahead and progressing, and people should deal with it.
The Holmes stories – in their original settings – have been done to death on TV and in movies. So, why not do something fresh and original and revamp the phenomenon for the 21st Century? That's exactly what was done with The Hound of the Baskervilles – or, as last night's episode was slightly re-titled, The Hounds of Baskerville.
Yes, the spooky and atmospheric location – the wilds of Dartmoor, England – was the same. And the production team did a fine job of retaining that feeling of mystery and intrigue that accompanies a late-night walk on those old moors.
As far as the rest of the story is concerned, however, well there were major changes – but from what I considered to be a very good perspective. In the Doyle novel, "Baskerville" refers to Sir Henry Baskerville and his new home, Baskerville Hall. In the show, however, Baskerville is a top secret, military-controlled installation on Dartmoor where – rumors suggest – diabolical experimentation of the genetic kind is taking place. On top of that, stories are rife that a gigantic, mutated hound has escaped from the confines of the facility and is the cause of all the terror on the moors.
I won't give away the story, but if you didn't yet see the episode, I would urge you to do so. It's fun, exciting, atmospheric, highly entertaining and offers a unique theory as to why, in the 21st Century, someone would be using the somewhat archaic word "hound" instead of "dog" to describe the beast. And, of course, the show thrusts back into the limelight one of Britain's most mysterious and longstanding cryptids – which can't be a bad thing!

About Nick Redfern
Punk music fan, Tennents Super and Carlsberg Special Brew beer fan, horror film fan, chocolate fan, like to wear black clothes, like to stay up late. Work as a writer.