Posted by: Karl Shuker on July 19th, 2014
Every self-respecting cryptozoologist knows – or should know – about the famous encounter claimed for St Columba and the Loch Ness monster during the 6th Century AD (its specific date varies from one authority to another). Having said that, in reality the encounter apparently took place not in the loch itself but in the River Ness – so the creature in question may not have had any bearing upon the cryptids allegedly frequenting the loch, but may simply have been a vagrant sea creature of known form, such as a bearded seal or possibly even a walrus. Anyway, regardless of its specifics, this encounter is, as I say, a very famous one in the annals of cryptozoology. Far less famous, however, yet no less interesting, is the 'other' encounter between a British saint and a lake monster.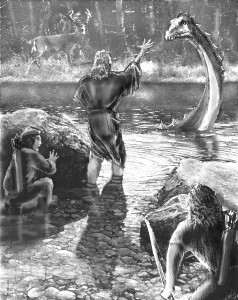 (c) William Rebsamen
Born Crónán mac Bécáin sometime during the late 6th Century or early 7th Century AD (his age upon death is unrecorded but he is known to have died on 30 March 637 AD), St Mochua as he became was a notable early Irish saint. After completing his education at Bangor, he was reputedly led through many regions of Ireland by a miraculous fountain that could move of its own accord, and during that time he performed a considerable number of miracles himself. One of these involved a lake monster…
Further details can be found here on my ShukerNature blog.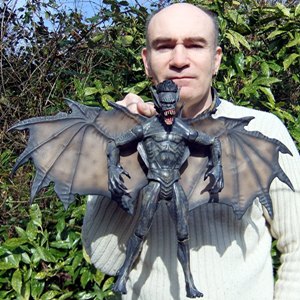 About Karl Shuker
My name is Dr Karl P.N. Shuker. I am a zoologist (BSc & PhD), media consultant, and the author of 25 books and hundreds of articles, specialising in cryptozoology and animal mythology. I have a BSc (Honours) degree in pure zoology from the University of Leeds (U.K.), and a PhD in zoology and comparative physiology from the University of Birmingham (U.K.). I have acted jointly as consultant and major contributor to three multi-author volumes on cryptozoology and other mysterious phenomena. I am the Life Sciences Consultant to The Guinness Book of Records/Guinness World Records (Guinness: London, 1997-present day), and was consultant to Monsters (Lorenz Books: London, 2001), as well as a contributor to Mysteries of the Deep (Llewellyn: St Paul, 1998), Guinness Amazing Future (Guinness: London, 1999), The Earth (Channel 4 Books: London, 2000), and Chambers Dictionary of the Unexplained (Chambers: London, 2007). I appear regularly on television & radio, was a consultant for the Discovery TV series Into the Unknown, and a question setter for the BBC's quiz show Mastermind. I am a Scientific Fellow of the Zoological Society of London, a Fellow of the Royal Entomological Society, a Member of the Society of Authors, and the Cryptozoology Consultant for the Centre for Fortean Zoology (CFZ). I have written articles for numerous publications, including Fortean Times, The X Factor, Paranormal Magazine, FATE, Strange Magazine, Prediction, Beyond, Uri Geller's Encounters, Phenomena, Alien Encounters, Wild About Animals, All About Cats, All About Dogs, Cat World, etc. In 2005, I was honoured by the naming of a new species of loriciferan invertebrate after me - Pliciloricus shukeri.