Posted by: Lyle Blackburn on January 28th, 2016
In memory of Julius Elmo "Smokey" Crabtree. April 22, 1927 – January 16, 2016.
This past weekend I attended the funeral services of Julius E. "Smokey" Crabtree to celebrate his life and to honor the passing of a friend and a legend. As someone who has researched and written extensively about the Boggy Creek saga, Smokey started as something of a mythical figure to me. I first saw him in The Legend of Boggy Creek movie when I was a kid and then later in person at various Bigfoot gatherings in Arkansas and Texas. But over the years, I came to know Smokey and his family on a more personal level. It was sad to see him laid to rest for many reasons.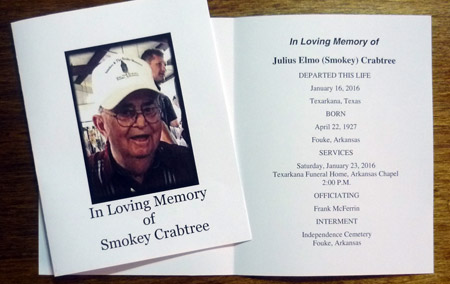 Smokey is, of course, best known for his association with the "Fouke Monster" case of Southern Arkansas, and his appearance in The Legend of Boggy Creek. His son, Lynn, experienced one of the most significant sightings (in 1965), which set Smokey down a path that would affect the rest of his life. As a result, he became one of the pioneers of Bigfoot research, using techniques in the 1960s that are still followed today. And despite all of his efforts to prove the existence of the creature and corroborate his son's sighting, he was never able to gain that proof nor see the creature himself. The fact that he never claimed a sighting, however, always stood in my mind as a testament to his credibility. Having known him in person, I found him to be a no-nonsense, straight shooter who was not the kind of man to make up stories.
Smokey Crabtree did not need to make up stories. His life was so extraordinary, it needed no enhancement. Even though he had no formal writing training, Smokey wrote about his life over the course of three biographical books in such a way that perfectly captured the challenges of his upbringing and the success he had in so many different endeavors. He was a man that could, quite literally, do anything he set his mind to. He grew up in the Sulphur River Bottoms near Fouke where life was hard. To make things worse, his father died when he was only six. His family was so poor, he and his brothers had to hunt, trap, and fish on a daily basis to provide food for the family or they would've perished.
As a young man, he left Fouke for a time to serve our country as a Merchant Marine. In the years that followed, he became a prize-winning boxer, a welder on the Alaskan pipeline, cattle rancher, a grocery store owner, organizer of the Monster City Jamboree Band and concert venue, and a publisher. He also built his own home, created his own lake (!), and established a bookstore. Along the way, he spoke at numerous Bigfoot events, continued to search for the Fouke Monster, and chronicled his adventures using a simple typewriter. And through all of it, he retained a respect for nature and his love of the Sulphur River Bottoms, along which he still lived. Even in his old age, he was the best outdoorsman that I have ever known; a man that could hunt and fish like no other. His name has become synonymous with the Fouke Monster across the world, but there was so much more to Smokey's life than his association with a "monster."
It's hard to explain a life such as Smokey's in a few paragraphs, so luckily for us, he chronicled it in his books and even an audio CD. And for those like myself who came to know him over the years, he served as an inspiration that hard work and dedication can overcome hardships. He always reminded us that nature is something to be respected and cherished; a place where we can learn so much about ourselves and the world around us. I may have met Smokey due to the Fouke Monster, but like so many times in this pursuit, it led to a friendship and learning opportunity beyond the mere pursuit of a mysterious creature.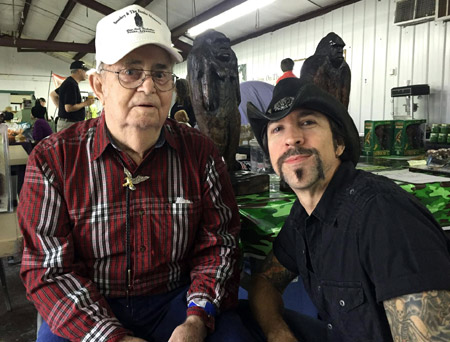 with Smokey in 2015 (photo by Bryan Impey)
Though I will no longer be able to drop by Smokey's house and visit with him when I'm in Fouke, he is not gone. Each time I venture out into the Sulphur River Bottoms, his presence will be there… gliding along the bayou waters and moving through the cypress trees. Somewhere in those murky landscapes, perhaps he now knows the truth behind the legend. Farewell, my friend. Your own legend lives on.
– Lyle Blackburn
Cryptid Files
January 27, 2016
For more information about Smokey and his books, please visit his website.
See also: Fouke Monster Legend Smokey Crabtree Passes Away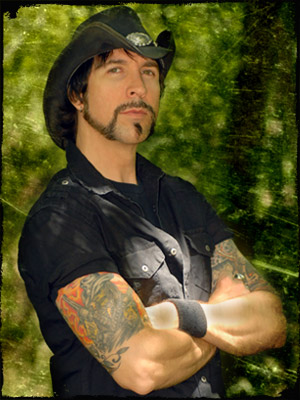 About Lyle Blackburn
Lyle Blackburn's research and writing on the subject of legendary creatures and unexplained phenomenon has been widely recognized as some of the best in the field of cryptozoology. His previous books, including The Beast of Boggy Creek and Momo: The Strange Case of the Missouri Monster, offer a balanced view of the subjects while delivering gripping accounts of real-life mysteries. Lyle is a frequent guest on radio programs such as Coast To Coast AM, and has appeared on television shows such as Monsters and Mysteries in America, Finding Bigfoot, and Strange Evidence. Lyle has also been featured in several award-winning documentary films, including Boggy Creek Monster and The Mothman of Point Pleasant. For more information, visit Lyle's website at: www.lyleblackburn.com